Austin Daye: 6-11, 190, SF, So. (Gonazaga)
Draft Rank: #28
SF Rank: #7
Strengths:

Great versatility for a guy his size. Very soft hands and smooth shooting stroke. He does a great job of squaring his shoulders up to the basket and rising into his jump shot. Has an effortless stroke, which allows him to extend his range to the NBA three. Has a great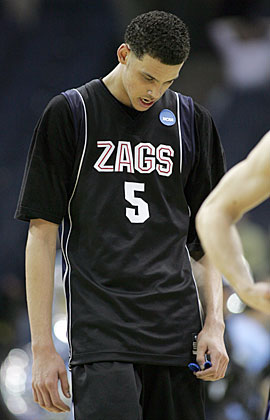 wingspan. Can handle and pass the basketball. High basketball IQ. Shoots the ball from above his head, which will make it extremely hard for teams to stop him from getting his shot off. Understands positioning and what he needs to do to block out his opponent on defense. Understands spacing on offense and can play within the flow of an offense. Does a good job of shooting the mid-range jumper. Does a good job of shot faking from the perimeter to get into his mid-range game. Has very good spot-up shooting ability. In the post he does a very good job of squaring up to the hoop where he can rise up and shoot, or take the ball to the rim. Has solid ball-handling skills for a player of his size. Very good fundamentals. Has good touch around the hoop. Does a good job of jabbing to the right and then dipping his shoulder down so that he can drive to the left. Creates matchup problems due to his ability to put the ball on the floor. Very good shooter along the baseline. Doesn't change his form, no matter what angle or what distance he is shooting from. He has great coordination for a player of his size. Good shot blocker.

Weaknesses:

Rail thin. His lack of strength will become a problem at the next level as he will have to go against stronger forwards. Still doesn't play the game at a fast level. Unable to finish when he gets into the lane because he can't take a hit to the body. Is a liability inside on defense in the post and outside on the perimeter as well. He is often lost and passive when his man doesn't have the ball. Falls for ball fakes a lot, which allows his opponent to break down the entire defense. Is a bit of a tweener. Doesn't attack the rim when he is in the paint and instead often settles for jump shots. Doesn't get to the free-throw line enough. He often tries circus shots in the lane rather than attacking into the defender's body and drawing the foul. Has had knee issues in the past. Isn't explosive around the hoop. Often goes up for rebounds with just one hand. Turns the ball over a lot when passing into the post.

Mental:

I don't see the confidence in Daye that most players with his skill level possess. Daye's body language is often clearly visible and you can tell he gets down on himself when his shot isn't falling or he isn't getting calls. Because he doesn't play physically, he often doesn't get calls that others may get, which in turn leads to him making faces or showing frustration when he doesn't get calls. I worry about his toughness at the next level as it is significantly more physical than what he experienced in the WAC. He will have to show he is not afraid of stronger players and has confidence he can physically play with the big boys.

Extra info:

-- Father Darren played in the NBA.
Comparison: Tayshaun Prince, 6-9, 215, SF
Would be a good fit for: New Orleans Hornets, Chicago Bulls or L.A. Lakers
Conclusion:
I am not as high on Daye as a lot of other people are. I just think he is way too passive for a guy who will already be handicapped by his lack of strength. Daye will definitely have to play the 3 in the NBA because of this and I worry that while he may create mismatches on offense, he'll have serious struggles on defense. While I am not high on him, I can understand why some people are. It's very rare to find a 6-10/6-11 player who has the skill set he has. His shooting stroke is so effortless and he has tremendous coordination. His skills are on par, or higher, for what you look for at the small forward position. Combine those skills with a monster wing span and you have a guy who should be a mismatch every time he touches the ball.
The comparison to Prince does have a lot to do with their body types. Both guys have freakishly long arms and the ability to put the ball on the floor or shoot the three with tremendous ease. While offensively they bring similar skills to the table, the big difference I see is on the defensive end. Prince takes great pride in being a good defender and cherishes every possession on that end. You can't say the same thing about Daye. While Daye is a good shot blocker, he often loses his man on defense and I think he will be really taken advantage of in the isolation -- 1-on-1 style of the NBA. Guys will attack Daye and I really think he will struggle physically on the defensive end. If I was his coach I would show him tapes of Prince and tell him to take the same pride on the defensive end Prince has. Daye has a long way to go before he can give a team what Prince does, but he does have the potential to grow into a similar player.
I see a super talented player who needs to do a better job focusing on the court if he wants to stay in the league. The strength is obviously an issue and will continue to be an issue for many years. But the guy has some skills other players just don't have -- and aren't capable of. His shooting stroke is as good as it comes and you just don't find guys with his size that have the coordination and capabilities he possesses. That is why he will be a first-round pick as someone will fall in love with his touch, length and overall skills set. But I would caution whoever drafts him to understand he is still physically and mentally very raw.