Blake Griffin , 6-10, 251, So., PF (Oklahoma University)
Draft Rank: #1
PF Rank: #1
Strengths:
An absolute beast on the boards. R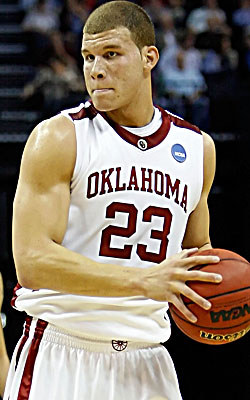 eally positions himself well around the rim. When grabbing rebounds he uses his strength and athleticism to explode above the rim at the ball's highest point. Has a great feel for the game that really allows him to excel on the boards. Offensively he has the inside and outside game necessary to be a very good power forward at the next level. He can handle the ball, pass and has a soft shooting touch around the rim. Also has good handles away from the rim, which allow him to attack and lose his man with quickness.
His soft hands and great feet allow him to pivot and beat his man to the rim. He also has the explosiveness and athleticism to finish when he gets to the rim. Runs the floor very well for a big man. Has a great motor and plays with great energy. Loves to use a spin move and attack the backboard before a double team comes. He puts spin on the ball that allows him to finish under the rim with awkward angles. Attacks the ball on the defensive end to block shots. Has ideal size and strength to play the power forward position.
While he is at his best running the floor, he also has an array of moves with his back to the basket that are very effective. Has a nice jump hook shot that he uses once he has his man beat. Also does a good job of passing out of the double team. I think he is the fastest player from baseline to baseline in this year's draft, which is a very important attribute in the NBA.

Weaknesses:
Question marks surround his knee and how it will hold up. He always goes right and I am not sure how confident he is with his left hand. Relies heavily on his strength and athleticism, which won't be as dominant at the next level. Needs to work on his outside shooting so that he can be a consistent force from the foul line extended. Also needs to improve his free-throw shooting.
Mental:
Despite the fact that he gets knocked and hit constantly, Griffin almost always performs at a high level. He also doesn't let his teammates, the refs or the atmosphere dictate what happens on the court. A consistent force who has the ability to lead his teammates when he's on the floor. Has a "go to work" attitude that you look for in your star. Doesn't complain to the officials or get rattled when teams get physical with him. Also demands the ball in the game down the stretch, which speaks to his confidence in his own abilities. The few times that he goes to the bench he can always be seen cheering on his teammates and encouraging them. With that being said, my one concern is that he doesn't appear to be a vocal leader, which is something you want a No. 1 pick to be. His ability to lead will be the defining factor that may separate him from being "good" or "great."

Extra info:
-- Set a Big 12 record of 30 double-double's this year (David Robinson has the NCAA record with 31).
-- Set the Big 12 record for most rebounds in a season (504).
-- Sprained his left MCL his freshman year. Two months later he tore cartilage in his right knee.
Comparison: Antonio McDyess, 6-9, 220, PF/C
Would be a good fit for: Sacramento Kings, Washington Wizards, or Memphis Grizzlies

Conclusion:

Griffin has all of the makings of being a double-double guy in the NBA. He is a prototypical power forward who has the physical attributes that will allow him to be successful at the next level. I also love the way he came out and improved not only his game, but also his team this year. In today's game few teams have low-post threats. This makes Blake an even more valuable commodity. He also is an ideal power forward in today's game as he can play up-tempo and really get up and down the court. He also can be a force in the half-court set. His conditioning and work ethic will allow him to be a 40 MPG horse who coaches can rely on to contribute at both ends of the floor. The combination of worth ethic, gifted talent and basketball IQ make him the safest bet in this year's draft. He does have flaws in his game, but with his work ethic his ceiling is limitless. Look for him to start next year and make an instant impact on whichever team he goes to.