Darren Collison: 6-1, 165, PG, Jr. (University of California, Los Angeles)
Draft Rank: #21
PG Rank: #9
Strengths:

Great floor general. As good as any point guard in the nation defensively. Loves to pressure the other team's point guard. Gets a lot of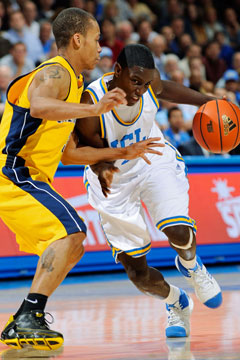 steals and uses his long arms to harass defenders. Shoots the ball above his head, which allows him to make up for his lack of height. Extremely efficient point guard who doesn't force passes or take bad shots. Very steady and consistent. Likes to drive left and pull up at the left elbow for a jumper, which he makes with ease. Tough to defend because he is deceptively quick. Runs the pick and roll very well by rubbing off his picker's hip, leaving the defense scrambling. Puts passes right where they need to be for a shooter to be able to score. Doesn't pick up his dribble and knows how to be shifty to get separation from his opponent. Understands how to control the pace of the game. Uses the hesitation move to get the defender on his hip. Very good free-throw shooter. Great basketball IQ.

Weaknesses:

Not very strong. Has college range, but I don't think he will be able to consistently knock down the NBA three. Swings his right foot into his shot which makes him take longer to get his shot off. Struggles against bigger and more physical guards. Needs to get stronger or craftier so that he can finish when taking the ball to the hoop. Doesn't have great upside.

Mental:

A great leader on the floor. When things become erratic he understands how to push or slow the pace down to what's best for his team. Likes to be the "quarterback" and point people to the right direction on the floor. From an intangible and mental standpoint Collison is right where you want him to be. He is selfless enough that he won't mind backing someone up, but is confident enough that he can start. Is willing to sacrifice his statistics for the betterment of the team. Has a great understanding of the game and a terrific basketball IQ.
Extra info:

Would be a good fit for: Utah Jazz, New Orleans Hornets or Sacramento Kings
Comparison: Anthony Carter, 6-1, 195, PG
Conclusion:
He is probably the least flashy top-tier point guard in the draft. He won't wow you with unbelievable quickness, passing ability or creativity, but he knows how to play the game. He will have a long career due to his smarts, his defensive abilities and his understanding of how precious the basketball is. As a result, I think Collison will make a very effective backup point guard.
He is extremely efficient with the ball and knows how to lead a team, which is exactly what teams look for in a backup point guard. He may be able to start in the prime of his career, but I see him as a backup in the beginning and a backup toward the end of his career. I envision him in a
Brevin Knight
/Anthony Carter role for most of his career.