Stephen Curry: 6-2, 185, Jr., PG (Davidson College)

Draft rank: #16

PG rank: #7

Strengths:
An assassin from outside. Can shoot the ball from anywhere on the court. Without a doubt has NBA three-point range. If he has a step on you then he will rise up and score. Has an extremely quick release and picture-perfect form. Has drastically improved his dribble drive game and has the ability to finish with a running floater, or off the glass from either side. Uses the triple threat as well as anybody and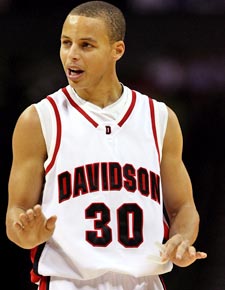 will rise up and shoot, drive by you to score, or drive to the hoop and pass. Loves to have the ball in his hands when the game is on the line. Can handle the ball well and is an underrated passer. Handles the ball equally well with either hand and has a very solid crossover to get separation. Very relaxed basketball player. Has a variety of moves to help get his shot off. Was one of the best scorers in the country all three years at Davidson. Uses a step-back jump shot to create separation and make up for his lack of size. Can really see the floor. Great from the free-throw line. Is used to logging long minutes and doesn't let it affect his shooting ability. Quick hands allow him to get a lot of steals. Very good rebounder for a guy his size.
Weaknesses:
Undersized for the next level. Doesn't have great strength or athleticism. May be a liability on defense in the man-to-man, up-and-down style of the NBA. Has the green light to shoot the ball at all times in college, how will he adjust when he is supposed to be the main distributor? Can sometimes force the issue and turn the ball over. His assist-to-turnover ratio is nowhere near where NBA point guards have to be. Not explosive enough or strong enough inside to be able to take body contact and score. Doesn't have great quickness.
Mental:
Curry proved this year and in the past that he's not afraid of anyone despite the fact that him and his team were often outmatched. He has a fire in him and ice in his veins that allow him to take big shot after big shot. He also plays with a chip on his shoulder that is probably attributed to his lack of recruitment coming out of high school. You can really tell he loves basketball and he appreciates that he is able to play at such a high level. I like that he has a short shot memory as he doesn't bring much to the table if he is not confident in his shot.
Extra Info:
-- Father Dell, is one of the best three-point shooters in NBA history.
Comparison: Jannero Pargo , 6-2, 170, PG
Would be a good fit for: New York Knicks, Philadelphia 76ers or Portland Trail Blazers
Conclusion:
The guy is one of the best scorers in college basketball history. That has to translate to something at the next level. The question is to what degree will he be successful? My biggest concern is that he doesn't have tremendous blow-by ability to get past the NBA guards. The quickness of NBA point guards is significantly different than in college. His size doesn't really worry me as much as guys his size have had success in the past.
He's tough to read because it is very rare for a team to rely so heavily on one player, much less a point guard. I think Curry will be a very good backup point guard in the NBA and could start if he is in the right situation. He would be an ideal guy to have next to a premier shooting guard that is ball dominant in the half court. He would be an asset next to guys like Kobe Bryant, Dwyane Wade, LeBron James, Brandon Roy and Joe Johnson who dominate the ball in the half court.
At the very least he will be a guy who can come in and give a team some outside shooting and stretch the floor, but if he is given the constant green light in the right system he really could be a tremendous player.