DeJuan Blair: 6-7, 270, PF, So. (University of Pittsburgh)
Draft Rank: #9
PF Rank: #2
Strengths:
Full of energy. Loves to mix it up down low. Has great bounce to his game. Plays with tremendous emotion. Very active on both ends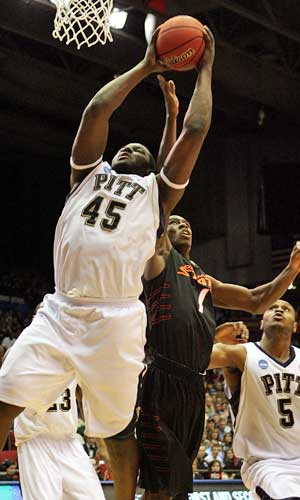 rebounding the ball (especially offensive). Attacks the ball with both hands when rebounding. Plays bigger than his size. Uses his wide frame to get position on bigger opponents. Uses his back side to get rebounds. Understands angles and where to go on the floor in order to rebound effectively. Lives for the big game and enjoys playing the role of spoiler or underdog. Can use either hand to finish around the rim. Knows how to get separation and then elevate to hit a jump shot. Isn't afraid of playing physical on either end of the floor. Has great feet and hands for a big man. Uses the baby hook shot very effectively as he digs his body into his opponent and then rises up. Uses the glass on both sides of the basket. Very soft touch around the basket. Good footwork that should allow him to become a solid back to the basket player.
Weaknesses:
An undersized big man. Gets into foul trouble very easily. Doesn't always make good decisions on either end. Not a good shot blocker. Isn't a good help defender and is often too slow when helping his teammates. Conditioning may become an issue as well. Not a good foul shooter. A little worried about past injuries. Plays below the rim. Can become erratic when putting the ball on the floor or squaring up at the top of the key. Needs to improve his jump shot so that defenses don't sag off of him when he sets picks. Needs to improve his free-throw shooting.
Mental:
Emotion, emotion, emotion. He is always smiling on the floor and you can tell he loves the big stage and loves playing basketball. His emotion can sometimes get the best of him, but I would rather have a guy with his motor and energy that makes some mistakes then someone that doesn't care about the game. I can also see him developing into a leader on the floor. His mental makeup is one that believes in competing and he clearly hates to lose. He provides his teammates with positive re-enforcement and I think his attitude and physical style of play rubs off on his teammates. He is a warrior who mentally will almost always have a positive effect on his teammates.

Extra info:
-- Tore both of his ACLs in high school.

Comparison: Craig Smith, 6-7, 250, PF

Would be a good fit for: Memphis Grizzlies, Milwaukee Bucks, or New Jersey Nets
Conclusion:
He is probably my favorite player in the draft. He will always have a role as a backup big in the league and provide a team with energy off the bench. I think he is similar to Craig Smith, but I think he will be better and be a guy that may even be able to start at the 4 in the NBA. If he can extend his range and lose some weight I see no reason why he couldn't be a dominant force on the offensive end. But until he does that he probably won't be a consistent starter in the NBA.
Look for him to come in and provide a team with positive and productive bench energy. In that role he can do what he does best, rebound, play physical and wreck havoc on opposing team's defenses. In a weak draft I think that he fits in as a top 10 pick. He will be able to contribute and help winning teams for many years to come.