Demar DeRozan: 6-7, 220, SG/SF, Fr. (University of Southern California)
Draft Rank: #20
SF Rank: #5
Strengths:
Has a great body for a 2 guard. Has the quickness and strength to finish around the rim and take the contact from big guys. Plays very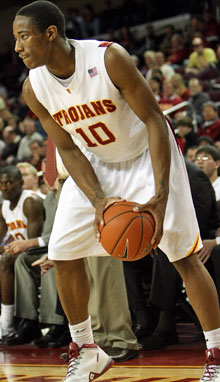 well without the basketball in his hand and moves well without the ball. Really runs well off of picks to create space for his jump shot. Likes to step back and shoot a fade jump shot that is virtually unstoppable when it's going in. Understands how to be successful inside the three-point line with his mid-range game. Has soft hands, which allow him to go left and right. Is aggressive on the boards and helps defensively on the glass as well. Has good explosiveness and leaping ability. Has a variety of moves and ways that he can attack the rim. Is great at slashing into the paint. Has very quick feet. Very good in transition. Knows how to use his steps wisely and to shift his feet when he is attacking on the break. Has a good understanding for spacing on the floor. Has the size and quickness to be a good defender. Should be able to play the 2 or the 3.
Weaknesses:

Doesn't have great playmaking skills. Doesn't excel when he has to put the ball on the floor and create for himself or his teammates. Needs to become a better passer when he is getting double-teamed. Needs to cut down on his turnovers and get more assists. Not a good three-point shooter. Not a good free-throw shooter. Must improve his overall perimeter skills so teams won't sag off of him. Needs to improve his ball handling skills. Didn't consistently produce when his team was counting on him to do so.

Mental:

DeRozan improved as the year went on this year as he adjusted to the college game. I give him credit for adjusting and becoming a much more dominant player as the year went on. DeRozan is a tremendous athlete, but he will have to rely heavily on a strong work ethic and mental toughness at the next level. There were times this year DeRozan really disappeared and there were games in which he really didn't stand out. The lack of focus and consistency in college is a concern. When he gets to the next level it will be the first time in his career that he won't be "the man" on his team. He will need to help his team anyway it needs and adjust his game according to that team's needs. Mentally, I worry he won't be able to make that adjustment.
Comparison: Dahntay Jones, 6-6, 210, SG/SF
Would be a good fit for: Toronto Raptors, Charlotte Bobcats or Indiana Pacers
Conclusion:

Originally I had DeRozan listed as a shooting guard, but after watching more film on him I believe that he will end up being a small forward. He will be a little undersized at that position, but it fits his skill set more than what teams rely on from a shooting guard. At the end of the day, a lot of teams have interchangeable shooting guards and small forwards, so that may not really matter anyway.
DeRozan does have a lot of upside, but he has serious flaws in his game that he will need to sure up before he gets to the NBA. He does possess the size and athleticism to be an effective player and even a star player, but I think he is far away from being a starter at the next level.
The best place for DeRozan to end up would be with a rebuilding team that will give him an opportunity to grow, but also to contribute and play right away. I worry about him getting stuck behind other players on the bench and becoming erratic when he enters the game. I believe he will definitely go in the lottery due to team needs and his star potential, but those teams really need to realize that he still has serious work to do.