Derrick Brown: 6-8, 225, SF, Jr. (Xavier)
Draft Rank: #27
SF Rank: #6
Strengths:
Very long and athletic wing player. Can really create mismatches due to his ability to go inside and outside. With his combination of strength, length and athleticism, he has a great NBA body. Has tremendous leaping ability. Has good, smooth shooting mechanics and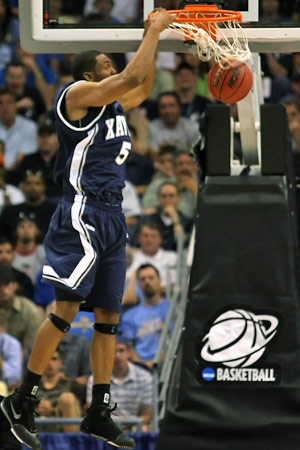 follow thru. When he is making his shot he is able to use the pump fake to get into the lane. Once he's in the lane he has a nice running floater that is virtually unstoppable due to his length. Shoots very well from three-point range and from mid range. Can grab a rebounds and take it coast to coast to finish on the other end. Does a great job of hesitating to get the defender off balance before attacking the hoop. Can get his shot off even when he is pushed off balance. Has a nice rise-up jumper that he uses once he gets into the paint. Does a very good job of adjusting in mid air and has great hangtime. Is very calm on the offensive end. When he makes up his mind to attack the rim he can really get up and finish. Has an effective drop shot that helps him get to the glass. Can finish well above the rim in transition. Has a great feel for when the defender is sagging off of him enough so that he can rise up and get his shot off with ease. Has great speed when he leaks out and is running in transition. Brings great versatility as he can give you minutes guarding both forward positions.
Weaknesses:
While he has mismatch capabilities, he doesn't dominate smaller players like he should, instead he often settles for outside shots. Despite his physical gifts he doesn't block a lot of shots or get a lot of steals. Needs to do a better job of moving without the basketball. Needs to learn how to seal his man when he has a mismatch so that he can take advantage down low. Doesn't fight for position down low. Would rather fade away on a jump shot then go straight up toward the rim. Once he gets the ball in the offense he almost always looks for his shot rather than creating for his teammates. Doesn't like to play physical. Doesn't move well when he is forced to dribble east to west or crosses over to his right hand. Doesn't have a quick release. Doesn't set good screens. Gravitates toward the three-point line rather than slashing to the hoop. Often shoots bad shots from the perimeter. Sometimes gets out of control when he puts the ball on the floor. On defense, his positioning is a little too hunched over, which hurts him when he is trying to guard quick, wing players.
Mental:
There is no doubt Brown has talent, but he sometimes gets lost and becomes passive during the game. His numbers were really underwhelming when you look at the talent he has. He should be an elite shot blocker and ball thief but his lack of aggressiveness holds him back. As Brown adjusts to the NBA, he has to learn how to fit into a team that will not be running isolation plays for him. He will have to walk that fine line of becoming more assertive and active in the NBA, while also realizing that doesn't necessarily mean taking more shots. He has taken his three years at Xavier to steadily improve his shooting stroke, which is a plus if people are looking into his work ethic. But mentally I am concerned Brown doesn't have what it takes to provide a team with positive play.
Comparison: Thaddeus Young , 6-7, 210, SF
Would be a good fit for: Sacramento Kings, Minnesota Timberwolves, or Phoenix Suns
Conclusion:
Brown has some of the same issues that the aforementioned Earl Clark has. His combine measurements backed up the idea he can definitely play at the next level, but the game is more than what a guy's measurements are. Brown has the abilities to be a very good three-point shooter, finisher in transition, and mismatch creator on offense. And on defense, his abilities should make him a good shot blocker and someone who records a lot of steals. Yet he often doesn't take advantage of his abilities.
On pure talent alone, Brown has it all. Where he lacks is in his mentality and his understanding of how to best help his team. While Brown shoots a good percentage from downtown, he is unbelievably deadly when attacking the rim. When he attacks he also forces a defense to get out of position and therefore creates opportunities for his teammates. Unfortunately, Brown doesn't drive nearly enough, and when he does he usually looks for his own shot rather than creating for teammates.
Brown reminds me a lot of another long and athletic lefty in Thaddeus Young. Young's freshman statistics match up very well with Brown's junior statistics, which might not be such a positive for Brown. Their measurements are pretty similar to each other, and ultimately I see Brown's ceiling being similar to the type of player that Young has become.
It will be interesting to see where Brown goes. He is definitely a first-round talent, but his production in college raises question marks about how he will do at the next level. Brown will wow you one play and then make you scratch your head the next. There also were games this year where he disappeared and didn't figure out a way to help out his team and stay involved. Brown almost waits for his number to be called and when it is he usually makes something happen. The key for him is going to be staying focused and active as his number will almost certainly not be called as much as it was at Xavier. He also has to learn how to use his strengths and physical gifts to really put his imprint on a game. If he learns how to do that then he may become a starter in the NBA. If not, then he could find himself playing overseas in a couple of years. It's really up to him.