Earl Clark: 6-9, 220, SF/PF, Jr. (University of Louisville)

Draft Rank: #18

SF Rank: #4

Strengths:
Extremely long and athletic player. Uses his wing span to attack the ball and rebound at its highest point. Has good form on his shot and should be a solid mid-range shooter at the next level. Has improved his shooting and should be able to extend to NBA three-point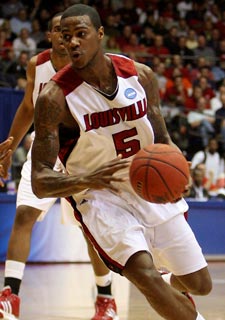 range. Can finish at and extend above the rim. Uses his wing span and athleticism to score, play defense and rebound. Is a step-into-the-ball, rhythm shooter who is at his best when his team uses ball movement to get him open looks. Has the type of game that could really create mismatches at the next level. Creates a lot of deflections, which lead to steals and blocked shots. Should become a good pick-and-pop type of player.

Weaknesses:
Makes bad decisions. He will wow you one play and then make you scratch your head the next play. Not a very good ball handler. Sometimes tries to do too much. Doesn't dominate games. Doesn't shoot for a good percentage from three-point range. Is a bit of a tweener at the next level. Loses focus in games and often disappears. Turns the ball over way too much for a forward. Doesn't get to the foul line enough. Settles for his jump shot. Doesn't have great post moves. Needs to become more physical and tougher.

Mental:
Like James Johnson , Clark has a lot of the tools teams look for in a starting forward. My main concern is that he may lack the drive and determination to be great. He also coasts in games at times and doesn't assert himself when his team needs him to. Clark's also one of the most inconsistent players in this year's draft and he really needs to improve his focus if he wants to be consistently relied upon in the NBA. I really worry about his mental toughness.

Comparison: Rashard Lewis, 6-10, 215, SF/PF

Would be a good fit for: New Jersey Nets, Minnesota Timberwolves, or Sacramento Kings

Conclusion:
I compared him to the Orlando Magic's Rashard Lewis, but he would really have to improve his shooting to be on his level. However, he does have the potential and the form to be a similar type of scorer. He has a great build for a small forward and also has the ability to move over to the 4. The problem is that he may be stuck in between those two positions and he needs to improve his shooting ability to be successful at the three.

The lack of physical and mental toughness is the reason why he isn't in my top 10. The guy is blessed with an amazing frame and with great coordination, but he is just too inconsistent and lacks the toughness you have to have in the NBA.

His field-goal percentage actually took a major dip this year, which is another concern I have about his work ethic. However, he does have good mechanics and there is no reason the shooting ability shouldn't improve -- the question is how much? If he can be a consistent shooting force then that will open up his entire offensive game. He is the type of guy a team should take if they want to roll the dice on a potential all star, rather than make sure that they get a solid contributor. I don't see him as a role player, so he really is a boom-or-bust type of guy. Because of that I think a team that is really and truly rebuilding should take a shot at him, not a team that wants to add a top-8 rotational player. His athleticism, length and coordination are at a level few possess in this year's draft, but he will have to work on his game to be a consistent starter.