Gani Lawal: 6-8, 229, PF, So. (Georgia Tech)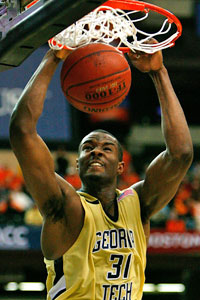 Draft Rank: #22
PF Rank: #4
Strengths:
Meat-and-potatoes big man. Understands his role as a post player and lives in the paint. Always is around the hoop on both ends of the floor. Gets up and down the floor with ease. Never stops hustling and has a great motor for a big man. Does a great job of sealing the defender so that he can be in a position to score. Has a great build for a power forward and is in great condition. Uses his size and strength to crash the boards.
Has good athleticism. Attacks the boards with two hands and dunks with two hands. Is constantly trying to gain position on offense. Has great lift when attacking the rim. Has a decent spin move and baby hook. Double-double machine. Good elevation and athleticism for a big. Really improved his game after his freshman year. Good length.
Weaknesses:
Doesn't have great quickness. Needs to work on his shooting. Needs to work on his ball handling. Hasn't dominated or led his team to a good season. While he has a couple of moves, he is still very uncomfortable scoring with his back to the basket. Sometimes moves his body faster than his feet, causing for him to be clumsy. A poor free-throw shooter. Doesn't have face-up scoring ability. Really struggles when playing against taller guys in the post.
Mental:
Lawal has good body language and is encouraging to his teammates. I do worry about his will to win as his team was just dreadful this year and the record didn't match the talent. But in the long run I don't see him as a leader or a superstar, but instead a guy who will come in and work hard every time he is on the floor. His energy and motor are what make him a first-round pick and I see no reason as to why that effort will change when he's coming off the bench.
Extra info: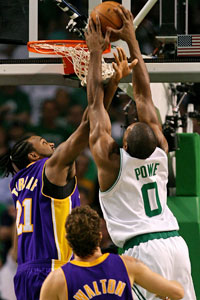 Comparison: Leon Powe, 6-8, 240, PF
Would be a good fit for: Detroit Pistons, Chicago Bulls, or Atlanta Hawks
Conclusion:
Behind Griffin, Blair, and Hill, Lawal is the next best natural power forward. Natural is the key word there as I think guys like James Johnson and Earl Clark will spend significant minutes at the 4. But unlike those players, I see Lawal as strictly a power forward. He has the size and the strength to play that position and he doesn't try to come out and play on the perimeter like a lot of 4s do. Lawal knows that his strengths are in the paint and he plays to his strengths.
In today's NBA so many bigs come out and play on the perimeter, but there is still a premium on guys who will go into the paint to get easy baskets. Teams are always looking for tough frontcourt players who can get them offensive rebounds and easy buckets inside and Lawal will play that role at the next level.
| | | | | |
| --- | --- | --- | --- | --- |
| Name | MPG | PPG | RBP | Assists |
| Leon Powe (California fresh.) | 29.8 | 15.1 | 9.5 | 0.7 |
| Gani Lawal (Georgia Tech soph.) | 29.6 | 15.1 | 9.5 | 0.6 |
Does he have the inside-outside skill-set that today's power forwards require? Probably not. But, Lawal will go in and mix it up down low, which is something that a lot of teams need. I really see him as a solid energy-backup big along the lines of Leon Powe. It's actually pretty crazy how similar Lawal's sophomore number are to Powe's freshman numbers. Look for him to have a similar impact on a team as Powe (when healthy) has. Look for a team in the teens to come up and grab him due to the lack of big men in this year's draft.