Gerald Henderson : 6-4, 215, SG/SF, Jr. (Duke University)
Draft Rank: #5
SG Rank: #2
Strengths:
Athletic to the point his head gets so high on dunks that he almost hits it on the rim. He has developed a nice mid-range game.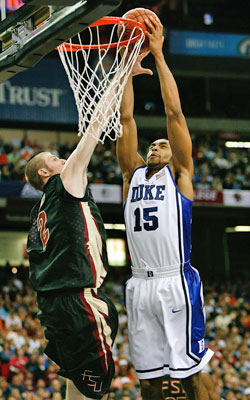 Understands the game. Has great quickness and athleticism that makes it very hard to stop him when he is taking the ball to the rim. Has great strength for a wing player. Takes good shots and doesn't force his game into the offense. Uses the shot fake to go by his man and attack the rim. Has improved his shooting every year. Really gets after it on the defensive end and can lock down most wing players in college basketball. Plays with a good motor and aggressiveness. Versatile player who does a lot of positive things on the floor and will be able to play within an offensive system. Gets into the passing lane and causes steals.
Weaknesses:
Doesn't 't have good handles like you'd want for a wing player. Not sure he has NBA three-point range. Needs to improve his playmaking ability. When driving he looks for his shot rather than breaking down the defense to create for others. Sometimes fades away on his jumper rather than going straight up. Was inconsistent and sometimes disappeared in big games.
Mental:
He has improved his confidence year after year. However, I don't think he is a go-to player yet. He needs to become more of a "give me the ball" type of guy, but I appreciate the way that he embraces being a complementary player. Often likes the ball in his hand at the end of games, but doesn't demand it. Mentally he should be a stable player at the next level, but I really don't see him as a guy who will go off and take over games. If he ever did get some of that "eye of the tiger" then he would become a much more dangerous player.
Extra info:
-- Father, Gerald played in the NBA.
Comparison: Michael Finley, 6-7, 214, SG
Would be a good fit for: Minnesota Timberwolves, Toronto Raptors, or New Jersey Nets

Conclusion:
I know people will call me crazy for having him this high, but the bottom line is that this is a really weak draft class and I really like Henderson's game. He has most of the important skills you want from a shooting guard. Even if he isn't a star he will certainly be able to adjust to a role at the next level, which is rare for a guy with his skills. He can really do a little bit of everything and does so many positive things on the floor that I would rather take a chance on him rather than some of the other guys in this year 's draft.

I know that he may be a bit undersized and needs to work on his perimeter game, but ask yourself this: Would he get significant minutes on your favorite NBA team? I think the answer is yes for almost any team. Once again this is a weak draft and he normally wouldn't be in the top five on my board, but I do think Henderson will have a long and solid career. Whether he will be a stud or not remains a major question mark, but I am very confident that he will be a contributor.