James Harden : 6-5, 216, So, SG (Arizona State University)
Draft Rank: #4
SG Rank: #1
Strengths:
Very good scorer. Can get to the rim with ease once he establishes a jab step. Uses the entire floor to get to where he wants. Understands spacing. Has a great floater and in-between game. Uses the glass well when he needs to. Uses the shot fake to get his man up in the air and then attacks. Very quick decision maker which allows him to find the open man and be a good distributor with the ball in his hands. Does a good job of getting his defender on his hip and drawing fouls once he has his man beat. Really understands angles and how to shield the defender from the ball. Has good arc on his shot. Quick release. Does a great job of waiting for a pick and then using it to become a scoring threat in the paint. Good catch-and-shoot player. Does a great job of cutting without the ball. Good rebounder for a guard. Very good defensive player. Gets a lot of steals, which lead to easy buckets on the other end. Plays with calmness and relaxed temperament that allows him to use all of his energy doing what he is best at doing -- scoring. High basketball IQ. Does a great job of getting to the rim and putting his body into the opponent to draw contact and get to the line. Very efficient basketball player.
Weaknesses:
Doesn't have great length for a two guard. Doesn't have great quickness or playmaking ability to separate from the defender. Doesn't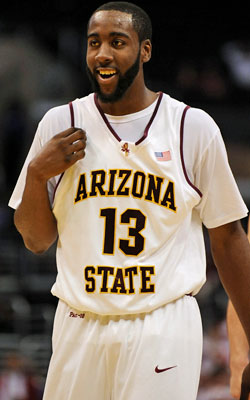 have elite athleticism. Is used to the offense going through him and needs touches in order to be effective. Is careless at times with the ball, which leads to bad turnovers. Sometimes takes plays off and hurts his team. Turns the ball over at a high level. Doesn't do a gr eat job of creating for himself on the perimeter.
Mental:
Is unfazed by his surroundings and who he is playing against. He plays his game no matter what is happening. However, he doesn't appear to have the killer instinct that would allow a team to put the ball in his hands at the end of the game. He really struggled in the NCAA tourney and I worry that he will have some similar struggles when he gets to the rigors of the NBA game. His shooting percentages actually went down this year, which isn't the steady improvement you would like to see from a top-five player.
Extra info:
-- Won an AAU tournament championship. Led his team to victory against a team made up of Michael Beasley, Nolan Smith and Austin Freeman.
-- 2009 Pac 10 Player of the Year.

Comparison: Michael Redd, 6-6, 220, SG
Would be a good fit for: LA Clippers, Oklahoma City Thunder, or Minnesota Timberwolves

Conclusion:
Harden knows how to play the game. He is a prototypical shooting guard and he has a lot of the characteristics that you look for in a go to scorer. He makes his teammates better and can carry the load, and I think he is capable of being a secondary scorer at the next level. His ability to play the game the right way is clear, but I worry that some of his skills will not translate in the NBA. The athleticism is a concern as he will be playing every day against the best athletes in the game. I also am worried about his performance in the tourney this past year. He really seemed frustrated and content with not competing at the highest level. The very best players step up when the lights are shining on them and Harden didn't do so. While that was disappointing, I did see him take over games numerous times this year.
The comparison to Redd does have flaws, as I see Harden as more of a mid-range player than a three-point threat. But they do have very similar numbers when you break down each player's production on the college level. Redd averages 4.6 three-point attempts in the NBA and has shot 38.6 percent career from long distance. He also averages about 5.1 free-throw attempts and about 29 percent of his shots are from long range. In his sophomore year Redd averaged the exact same amount of rebounds, 1.8 less assists, .6 less points and .3 less steals than Harden. Surprisingly, Harden also shot a better percentage from three-point land at 35.6 percent to Redd's 34.1 percent. Also, surprisingly Harden averaged almost one more three pointer per game than Redd did his sophomore year. As for free-throw shooting, Harden has a career average of 75.5 percent to Redd's college numbers of 65 percent. Furthermore, Harden got to the line 1.6 more times than Redd did in college. I don't always put that much value in statistics, but I was shocked to see how similar their production was and to see how Harden's college numbers were better than Redd's nearly across the board. Then again, Redd is a perfect example of a guy who improved his game and worked at becoming a better shooter once he got into the NBA.
Harden has such a good feel for the game and he understands his strengths. In the NBA guys are really limited on the perimeter as to how physical they can play and I think Harden will be able to take advantage of this. The best players in the NBA know that getting to the line is key and I think Harden will really do a good job of penetrating and getting to the foul line. His ability to put the ball in the basket and be a handful for his opponents is unquestioned, but he will have to improve his drive and will to win if he wants to be a consistent go-to guy in the NBA.