James Johnson: 6-9, 235, SF/PF, So. (Wake Forest University)

Draft Rank: #17

SF Rank: #3
Strengths:
Has an inside and outside game. Has the strength to create three-point opportunities inside. Can rebound the ball defensively and bring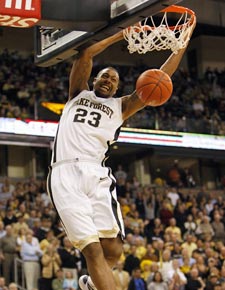 the ball up like a point guard. Does a great job of crashing the offensive boards to keep plays alive. Runs like a deer. Already has an NBA frame. Has the potential to be a complete offensive player. A natural three, but he has the size to guard fours and the quickness to guard some twos. Good off-the-ball defender. Great body control inside so that he can take a blow and finish. Great passer in the post. Can really see the floor, which may even allow him to run the break and find his teammates. Tremendous in transition. Has very good feet that allow him to lose his man while in the paint. Solid shot blocker. Has a nice mid-range game that includes a very effective pull-up jump shot.
Weaknesses:
Loses focus, which can often lead to turnovers. Often shoots bad shots. Leaves his feet on pump fakes, causing him to fall behind and lose his man defensively. Is a bit of a tweener as he often stays out of the paint, but he doesn't have the perimeter skills to play the 3. Needs to improve his consistency shooting the ball. Doesn't shoot the ball well from three-point range. Relied heavily on his superior size and athleticism in college, which won't be as superior in the NBA. Doesn't have great post-up or back-to-basket moves. Needs to improve his on ball defense.
Mental:
He has all the size and athleticism you look for in a forward, but he often loses his focus and doesn't understand that he can dominate opponents close to the rim. If he really focused and worked on his post game he would be a handful -- but I haven't seen him improve that part of his game in his two years at Wake. That said, he does have an edge and a passion to him many of his Wake Forest teammates lacked this past season. He really needs to mature and show he can focus consistently if he wants to be a reliable NBA player. He does have a fighter's attitude, which I like, but he has to learn how to harness his emotion and use it the best way possible on the court. His mental makeup and his work ethic will ultimately make or break Johnson's game.

Extra Info:
-- Was an accomplished kickboxer while in high school in South Dakota.
-- Despite the fact he is a sophomore, he is already 22.

Comparison:
Al Harrington, 6-9, 250, PF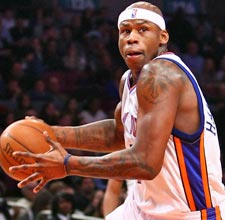 Would be a good fit for: New Jersey Nets, Phoenix Suns or Sacramento Kings

Conclusion:
Johnson's biggest issue will be that he's a bit of a tweener. However, his offensive skill set should create mismatches no matter who is covering him. His ability to go inside and outside is what makes him a commodity and ultimately what will probably lead a team to take him with a top-15 pick. He needs to learn that he could really hurt opposing teams when he is taking the ball to the rim and posting players up who may not have his size or athleticism. Ultimately, I wish he were a power forward prospect, but after watching him I am not sure he will be the type of guy who will want to do his work in the paint. If that changes he could be a really good pro. He has a ceiling that is much higher than guys like Sam Young and Terrence Williams.
He reminds of New York Knicks forward Al Harrington. His build is very similar, and like Harrington he is at his best when he is attacking rather than settling for threes. He also is a bit of a tweener like Harrington, which will lead to him struggling on defense.
Johnson's mental makeup and work ethic will be a big factor in how he does in the NBA. The game won't come nearly as easy to him as it did in College and he will have to continue to work if he wants to be a factor. His physical attributes and his skill set have the makings of a starting forward, but he still needs to improve and show that he can contribute consistently.