Jeff Pendergraph: 6-9, 240, PF, Sr. (Arizona State University)
Draft Rank: #26
PF Rank: #6
Strengths:
Steady power forward who isn't afraid to mix it up down low and do the dirty work. Has a soft touch around the rim and from the foul line on in. Does a good job of transitioning from the post to face up and turn into a mid-range shooter. Really takes pride in beating his man down the floor and setting up shop in the post. Has a good, solid frame and strength to play the 4 at the next level. Gets up to the rim very quickly and has good explosiveness when in the paint. Makes good shot selections. He knows his role as a big and doesn't try to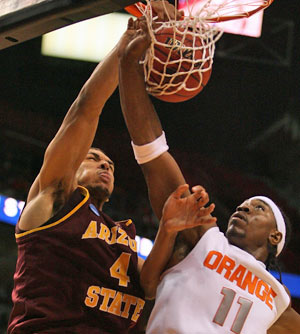 play on the perimeter.
Does a good job of attacking the boards with two hands. Has great length for a big man. Seals his man and puts his hands out to make him a target for passes. Is constantly working in the post. Excels at setting picks. Has the ability to finish even when he is pushed into a tough angle under the basket. Likes to initiate contact in the post and doesn't back away from physical play. Does a good job of slipping to the paint after setting picks.
He can take a hit with the body and still finish around the rim. Takes advantage of smaller players when they are switched to him. Does a good job resealing his man when he can't get position the first time. Due to his size he should be able to play some center at the next level. Good motor and does well moving without the ball in his hands. Knows how to play alongside a great player. Has a nice one-handed shot that he hits with regularity along the baseline from the post. Very good hands. Does a great job of running and finishing on transition. Was an anchor in the paint for a team that basically surrounded him with four guards.
Weaknesses:
Isn't dominant in one area of his game. Needs to improve his pick-and-pop capabilities. Has limited range on his jump shot. Doesn't have the ability to handle outside of the paint. Needs to improve his passing. Is often predictable as to where he is going once he receives the ball in the paint. Needs to be quicker in his decision making in the paint. Needs to improve his footwork in the paint, including a better drop-step move that can get him going toward the basket rather than fading away for jump shots. Often relies on size and strength in college instead of good post moves to get his baskets. Defensively it's tough to judge him because of the matchup zone that ASU played, but he isn't a good shot blocker and often struggled when he got quick fouls.
Mental:
His motor and hard work on the floor is often what allows him to score. I love the way he puts his head down and just runs up the floor to catch his opponent off guard. Furthermore, while Harden struggled in the tourney, Pendergraph was a consistent rock until he ran into foul trouble against Syracuse. I also love that he understands his role and knows his limitations. Mentally, Pendergraph isn't bothered by who he is going up against and brings the same intensity night in and night out. Has a tendency to get into foul trouble.

Comparison: Kurt Thomas, 6-9, 235, PF/C
Would be a good fit for: Cleveland Cavaliers, Memphis Grizzlies, or Chicago Bulls
Conclusion:
Pendergraph does so many positive things on the floor it's hard not to like his game. In a world where many of today's 4s think they are guards, Pendergraph knows his role as a big man down low. All he does is efficiently produce, which is what a team should ask for from a guy who translates as a backup big in the NBA. Does he have the all-around offensive game that teams look for in a starting 4? Probably not. But he will rebound, play defense, set picks, bang down low and run his opponent ragged. Not to mention he measured out with legitimate big-man size.
As for comparisons. He could end up like a Lawrence Roberts-type who never really produced in the NBA, but I believe he will end up being more like a Kurt Thomas or even a
Tony Battie
type of player. Sure he needs to work on his jumper to become as reliable as Thomas has been over his career, but he has the form to become better from out there and his physical play reminds me of Thomas.
I think Pendergraph is the classic case of a guy who will get overlooked because teams will look at all of his limitations. But the bottom line is that his positives far outweigh his negatives. He is solid all around and while he may not wow you with athleticism or the ability to go inside and out, he is a true power forward. I really like Pendergraph as a guy who is NBA ready and will find a way to contribute and get easy buckets for a team. I think he would look very good in Cleveland as he would help them in the post and give them somebody who understands how to get open when playing with a superstar.