Jeff Teague:
6-2, 180, So., PG (Wake Forest University)
Draft Rank: #10
PG Rank: #4
Strengths:
An absolute assassin on the offensive end. Can score in a variety of ways. Shoots for a tremendous percentage from the three-point line. Can take the ball to the rim with great control and finishes strong. Runs the floor very well. An above-average passer. Breaks down a defense and either creates for himself or his teammates. Wants the ball in his hands at the end of the game. Clutch player. Plays solid defense. Very good basketball IQ. Really sees the entire floor and is a tremendous distributor when running the break. Does a very good job of using his steps to shift away from his opponents. Has a very good first step as well as a pullback jumpshot. Good free-throw shooter. A good finisher once he gets into the paint. Has a terrific crossover. Has the size and athleticism to finish in the paint. Does a good job of scoring off the dribble. Has great speed and quickness.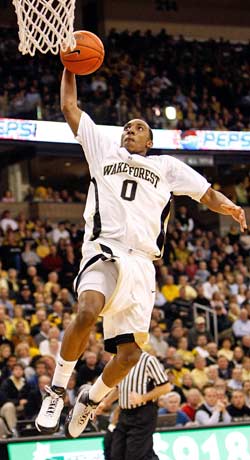 Weaknesses:
Sometimes doesn't play with great energy. Is not a vocal leader. There are times when he needs to elevate his teammates, but he doesn't. His body language is very stoic and often when his team needs him to boost energy, he doesn't do so (which is very important for a point guard). While he is a good passer, he often looks for his scoring rather than his teammates, which leads to an awful assist/turnover ratio. Needs to be more consistent. Needs to improve his catch-and-shoot capabilities.

Mental:
Teague loves the ball late in the game, which is definitely a positive as far as his mentality is concerned. However, he often disappears for long stretches in big games. Despite the fact that he gets lots of touches, he sometimes manages to take himself out of the flow of the game. As a point guard he will need to demonstrate more leadership qualities if he wants to be a starter. I am really concerned that he may not be mentally strong enough to quarterback a team. Wake had a lot of talent this year, yet they underachieved in large part because Teague wasn't able to grab the reins and get his team in a position to win. I worry that he will struggle leading a team at the next level and will not be selfless enough to play the point.

Comparison: Randy Foye, 6-4, 210, PG/SG

Would be a good fit for: Philadelphia 76ers, Atlanta Hawks or New Orleans Hornets

Conclusion:
I think he will either be a stud or a dud. Point guards are very hard to read and Teague is no different. He has all the tools to be a very successful point at the next level, but he will have to bring the same confidence as he did in college to be successful. He is a rhythm scorer who is almost unstoppable when he gets going. The key for him will be consistency and his ability to run a team.
I worry that he lacks the mentality to get his teammates going. Coming into the NBA he will be expected to be a distributor first and a scorer second. In college he was at his best when he was scoring first and getting his teammates involved second. This ended up hurting not only his stock, but also his team in college. He definitely needs to become more of a distributor.
With that said, Teague's scoring ability is hard to ignore. He can get to the rim, create his own shot and has good NBA size to play the point. He also looks to be a solid defender with his combination of size and quickness. His numbers are very similar to Randy Foye's in college and I look for similar production at the next level. Like Foye, I don't think he will ever be a true point guard but I do think he will be able to help a team with his scoring ability.