Jonny Flynn
: 6-0, 172, PG, So. (Syracuse University)
Draft Rank: #6
PG Rank: #2
Strengths:
Extremely bouncy player. Loves to penetrate into a defense and create for others. Has a great first step. Very tough player who gets after it on both ends of the floors. Extremely quick when running the ball up and down the floor. Has three point range. Can finish with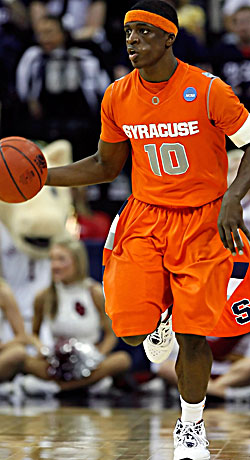 explosiveness around the rim. Also has a soft touch and an array of floaters that allow him to finish over taller players. A floor general. Plays with great passion and emotion. Plays his best when going against a top tier opponent. Has tremendous handles. Sees the floor really well. Loves to shoot the ball with the game on the line. In tremendous shape and never appears to tire throughout the game. Good free throw shooter. Can really hurt teams when he has an isolation opportunity. Also does a great job of dribble penetration and the ability to make a defense scramble.
Weaknesses:
Undersized at the point. Sometimes forces the issue when taking it into the lane and turns the ball over. Sometimes looks for his shot rather than getting his players involved. Needs to improve his consistency from the outside. May struggle on the defensive end against bigger point guards.
Mental:
A tough, small guard. He doesn't back down from his opponents and really doesn't let his size stop him from being aggressive. He always has his head up and looks as if he dribbles a basketball everywhere he goes. He often gets the crowd into the game and has energy and a motor to him that you need to have as a small guard. He has all the confidence in the world in his ability and encourages his teammates on and off the floor. Loves to have the ball in his hands at the end of the game and clearly cares about winning. He was frustrated at times this year in the 2-3 zone. I love a player that wants to get out and defend rather than sit back in a zone. You can tell this guy lives for basketball and looks as if he would play basketball for free. He showed his incredible mental toughness and his will to win in the OT thriller against UConn in the Big East Tournament.
Extra info:
-- 2009 Big East Tournament MVP.
Comparison: Bobby Jackson, 6-1, 185, PG

Would be a good fit for: New York Knicks, Phoenix Suns, or Philadelphia 76ers
Conclusion:
Flynn has everything you look for in a quality point guard and at the very least a top backup point guard. He can shoot, he can drive and he can dish. His quickness and energy is exactly what teams want from a backup point. What he lacks in size, he makes up for in passion and athleticism. He has all of the confidence in the world, which is really important for a point guard. He is still young and will only get stronger, which will help allow him finish in the lane -- a current concern. He is the type of guy that can come in and really change the course of the game.
Today's NBA relies on guards who can get into the lane and breakdown a defense. If you watch the
Rockets
and what
Aaron Brooks
is doing it's evident that guards can really change the game. Every year it's becoming more of a guard's game and players with quickness are a hot commodity. With the inability to hand check and the defensive three-second calls, quick point guards are really important to an offense. Flynn's game really fits this mold and I think he will be a very productive NBA point guard.
I think he will be similar to Bobby Jackson. Like Jackson, I think he will be an effective starting point guard, but he may be at his best when he's coming off the bench as backup point guard. I think he is a much better passer than Jackson, which will make him more of a point guard than a scoring guard.
Lastly, I know that size will be a major knock on Flynn. But I would like to point out that some of the best-ever point guards have been small point guards (see Isaiah Thomas and
Chris Paul
). This year's point guard class is extremely deep, but I think Flynn is better than all of them, with the exception of Mr. Rubio.