Jrue Holiday: 6-3, 180 PG/SG, Fr. (University of California, Los Angeles)

Draft Rank: #12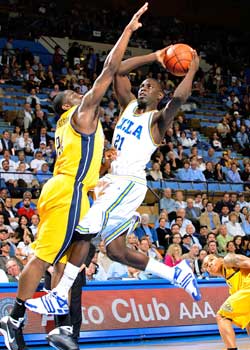 PG Rank: #6
Strengths:
Has tremendous scoring ability. Can use either hand and a crossover dribble to create space for himself to score. Very quick. Combo guard who plays with a selfless mentality. Can pass with the left or the right. Has a very nice bounce pass that he uses with regularity when players are open. Plays very good defense and doesn't take plays off. Plays within a system and doesn't force his offense when others are open. Can break a player down one-on-one and get into the lane with ease. Finishes high above the rim. Has very good handles for a guard. Has a good release and mechanics on his jump shot. Is tremendous in transition where he can handle, rise up to the rim, or pass to his teammates. Often becomes a difference maker when the ball is in his hands.

Weaknesses:

Still makes poor decisions at times. Not a pure point guard. Doesn't do a great job off the ball in order to create for himself. Didn't take over for his team like they needed him to. Didn't improve his teammates' play when he was on the floor. Needs to show that he can consistently make shots from the perimeter. Needs to become more consistent in his overall game. Needs to become more assertive and show he has the ability to lead.

Mental:

Despite the fact he has star talent, he bought into the team mentality and didn't play a selfish brand of basketball. That was a testament to his character and how he puts the team before his own statistics. With that being said, I am worried he doesn't have the lead-guard mentality you need from a point guard. He didn't rise up and take over for UCLA and they really needed him to do so. There is a fine line between being selfless and not being assertive, which will come back to haunt you if you're not careful at the next level. His numbers obviously won't blow you away, and they are a concern as he will have to assert himself amongst NBA grown men.

Extra Info:
-- 2008 National High School player of the year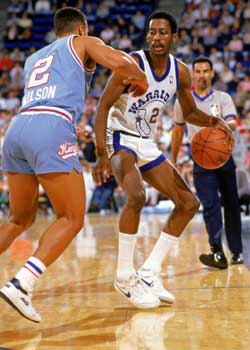 Comparison: Sleepy Floyd (right), 6-3, 170, PG
Would be a good fit for: Sacramento Kings, Milwaukee Bucks or Indiana Pacers

Conclusion:
He should be a player in the league for many years to come. The question will be in what capacity? I think he will be a very effective combo guard who primarily brings up the ball for his team. However, he may fall into that backup guard role and be used as a sparkplug off the bench (a la
Leandro Barbosa
,
Jason Terry
, or a Flip Murray type). I worry he won't assert himself enough to deserve starting minutes and that he will accept his role as a bench player.
I watched some film recently of an NBA classic game where Sleepy Floyd was playing for the Golden State
Warriors
. When watching the game it hit me that he really reminded me of Holiday. When watching Floyd he made getting to the rim and scoring look extremely easy. Holiday has a very similar build and scores in a similar fashion to the way Floyd did. Like Floyd, I see him as a scoring point guard.
I love Holiday's balance and ability to bring a variety of skills to the table. He is a top-10 talent, but his lack of production last year in college really scares me. I know he was in a defensive system and had to play the 2 because of Collison, but you still want to see more production from a lottery pick. His team also struggled a lot this year and he should've been able to take over games and lead them. He was at his best when he had the ball in his hands when Collison was out of the game and hopefully he will go to a team that needs him to carry the load for them. His talent is undeniable and his ability to not only score, but also to defend makes him a commodity as a guy with a very high ceiling.
I would love to see him go back to school this year and show what he can do as the lead guard for UCLA. He still has a ways to go to prove that he can be a true point guard. But with a weak draft I can understand why it would make sense for him to come out now. I also think that the NBA will cater to his style of play and the best is yet to come for Holiday.