Jodie Meeks: 6-4, 208 SG, Jr. (Kentucky)
Draft Rank: #24
SG Rank: #5
Strengths:
One of the best scorers in college. Shoots a tremendous percentage from both two- and three-point range despite the fact he is a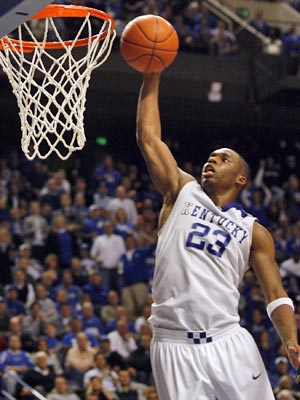 high-volume shooter. Has improved more than any other player from last year. A tremendous shooter who understands how to get open without the ball. Once he gets the ball he has a quick release and good balance to allow him to shoot the ball from just about anywhere on the court. Has good elevation, strength and arc on his jump shot that will allow him to extend his range to the NBA three. Gets to the foul line by initiating contact and then moving to the left or the right to get his shot off. Shot three pointers as well as anyone in college basketball. Has good-enough handles that he can give a team spot minutes at the point guard. Has good strength for a shooting guard. Has great pull-up ability from just about anywhere on the floor. Does a really good job of rubbing off of screens and rising up for jump shots. Is constantly moving on offense. Can drive to the left just as well as the right. Understands how to use the entire floor to get open looks. Uses the pass fake to make extra space and get his shot off. Does a good job of using the rim to shield defenders and finish on the reverse side of the hoop. Isn't out of control when he attacks the rim or prone to charges. Has solid form and position on defense. Is a very good one-on-one isolation scorer. A terrific free-throw shooter.
Weaknesses:
Was hurt for most of his sophomore year. Doesn't have good post-up ability. Is a bit undersized to play the 2 in the NBA. Is a very compact player with a short wingspan. He has the build of a point guard (but the skills of a 2 guard). Very turnover prone. Doesn't penetrate and look to find his teammates. Not a great passer. Often gets trapped when he is in the lane due to his lack of athleticism and playmaking ability. Plays too much on the perimeter and too often settles for the outside shot. Needs to get more elevation when attacking the rim. Doesn't have elite athleticism for an NBA wing. Needs to do a better job of closing out on shooters on defense. Can be a liability defensively against bigger guards in the post. He often loses his man on picks on defense and as a result sometimes gets caught in no man's land.
Mental:
Meeks appears to be solid in this department. He has a shooter's mentality and doesn't get bothered when his shot may not be falling. His improvement this year was so significant that you have to give him credit in the work-ethic department. Coming back from an injury and two sub-par seasons, it is truly impressive to see how effective he was putting the ball in the basket. However, the losing is a major concern. The elite players always seem to make their teammates better and I am concerned about how Kentucky did while Meeks was putting up 20-plus points a night. In the NBA he will have a short leash and he will have to find multiple ways in which he can help the team. Mentally, he will have to continue to contribute even when his shot isn't falling, and even when the team isn't running plays for him. He may have to adjust his mindset if he wants to be a consistent contributor in the NBA.
Extra info:
--Scored over 45 points three times last year.
--Scored under double digits only once all of last year.
--Scored 54 points against Tennessee last year.
Comparison: Quentin Richardson, 6-6, 235, SG
Would be a good fit for: Utah Jazz, Dallas Mavericks or New Orleans Hornets
Conclusion:
One of the best scorers last season, the guy is just a flat-out basketball player. He excels at one thing -- scoring. There will always be a need for a guy like that on an NBA roster. His size should allow him to defend against shooting guards and his skill set will allow for him to come off the bench and play the point if need be. I really see him as a sparkplug who comes off the bench and makes things happen with a second unit. However, he may struggle in the beginning as he surely needs to have the green light to be successful.
As far as the comparison to Richardson, I think they are very similar. Richardson has pretty much settled in as a backup shooter in the NBA. I think Meeks will have a similar game in the NBA -- without the post-up capabilities of Richardson. They have similar compact builds and both rely on their perimeter game to score. Richardson has more size, which is something that is a bit of a concern for Meeks.
One of the big issues for Meeks is that I don't see him as a consistent starting shooting guard in the NBA. I really think he will be relegated as a combo guard off the bench. I also worry about his previous health issues. But the improvement he showed this year is a testament to his will and his desire to contribute. I think his ability to get hot and put the ball in the hoop will allow him to crack a rotation almost immediately, however the upside once he cracks a rotation may be limited.