Marcus Thornton: 6-4, 201, SG, Sr. (Louisiana State University)
Draft Rank: #29
SG Rank: #6
Strengths:
He's a very good scorer with a toughness to his game that he needs due to his lack of size and athleticism. Does a good job of stepping into shots. Is constantly moving on offense. Has a good post-up and back-to-the-basket game. Has good strength for a shooting guard. Has great anticipation on defense, which allows him to get in passing lanes for steals. Really battles and helps on the boards.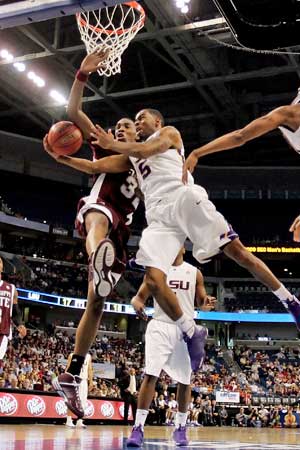 Understands positioning and spacing on the floor.
Does a good job dipping his shoulders down to get space, which allows him to attack the rim if he hasn't initiated contact to draw the foul. He knows how to get out in transition and score. Moves very well laterally. Does a good job coming off of picks and catching and shooting.
Has very good body control, and hands, that allow him to receive passes other players may not be able to catch. Has a nice fade-away jump shot that is helpful when he gets into the post. Has a high release on his shot, which is important due to his lack of size. Is very aggressive in every aspect of his game, whether it is on cuts, rebounding or attacking the rim he. He does it all with a ferociousness that you love to see. He doesn't wait for the ball to get to him; he instead goes toward the ball, which makes him a much better target. Very quick release on his shots.
Weaknesses:
Often falls short on long threes, which makes me question whether he has NBA three-point range. Is undersized for a shooting guard. Often forces bad shots. Doesn't have great athleticism for a shooting guard. Doesn't have the ability or the size to play multiple positions. Often settles for outside shots rather than taking the ball to the rim. Doesn't do a great job of creating for his teammates. Struggles on defense against bigger guards. Sometimes forces the issue when he has his mind set on scoring.
Mental:
I love his mental toughness. The guy never stops playing hard and is always working on both ends of the floor. He cherishes the possessions that he has and doesn't mess around when he gets the ball. He has a swagger and confidence that allows him to go against bigger players, or smaller and quicker players. The guy wants to win and literally throws himself into the fire in the hopes he can will his team. One of the things I don't like is he often gets into it with some of his teammates when he doesn't get the ball. In the NBA he is going to have to get used to fitting in, and there will be many times when he may not get the ball when open.
Would be a good fit for: Dallas Mavericks, New Orleans Hornets or Indiana Pacers

Comparison: Willie Green, 6-3, SG, 201
Conclusion:
Thornton's toughness is what allows him to compete at such a high level. The guy is relentless and really doesn't care about what the circumstances are. While he doesn't possess the ideal length to play the 2 in the NBA, he should be able to compete with most team's second units and be an added scorer off the bench. While Thornton is still young, he has a very mature game and as a scorer he doesn't have too many holes.
Thornton's energy makes him an interesting prospect. You can tell he really cares about winning and he wants to have the ball in his hands so that he can make a difference. Thornton's ability to find ways to put the ball in the hoop will surely be an asset for whichever team drafts him.
Thornton reminds me of Willie Green. While Green went to Detroit, and their numbers are very similar in two years in college. Their builds are also very similar. Green is a backup combo guard, which is where I see Thornton. While Thornton doesn't provide as much flexibility to shift over to the point, his game at the 2 is more complete than Green's.
Thornton is a solid prospect. In a draft that lacks starting shooting guards, Thronton should be able to creep into the first round to a team in need of backcourt help. Ultimately I see him as a backup shooting guard who might be able to crack into a starting lineup. His upside isn't enormous but he is a solid player with a good motor who should be able to crack an NBA rotation.