Tyreke Evans: 6-6, 195, PG/SG, Fr. (University of Memphis)

Draft Rank: #7
SG Rank: #3

Strengths:
Good versatility as he can play the 1 or the 2 on both ends of the floor. Has tremendous court vision. Great athleticism. Very good handles and passing ability for a guy his size. Has proven that he can really run a team and be a go-to guy. Has the size that you look for at both guard positions. Can get after it by using his athleticism and wingspan to be a defensive force. Gets his hand on a lot of balls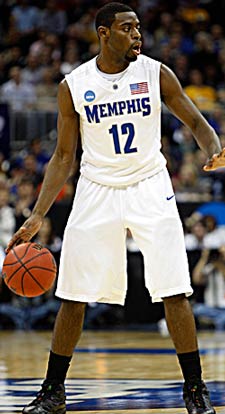 and creates deflections. Good rebounder on both ends of the floor. He makes his teammates better. Can get to the rim whenever he wants but seems to like to get his teammates the ball rather than scoring by himself. I think he will be an even better player when he is surrounded by great talent. Has unusually effective handles for a player of his size. Very crisp and effective passer. Does a good job of getting into transition and either taking the ball to the rim or finding his teammates. Has a very nice stop-and-go hesitation move, which helps him get to the rim.
Weaknesses:
Has played his best basketball at the 1, but I don't think he has the intangibles and may lack the overall foot speed to be a steady force at that position in the NBA. Needs to be a steady and more consistent shooter from the perimeter. I think he will fit in at the 2 in the NBA, but he really lacks the incredible athleticism that most great 2 guards have in the NBA. Shot 27.4 percent from three. His shooting mechanics are not ideal as he brings the ball over his head and doesn't follow through properly. Turns the ball over too much. Needs to get to the foul line more often. If he is going to be a point guard he needs to get his assists numbers up. He needs to learn how to jump into his shot rather than fading away.
Mental:
As a freshman, he showed the ability to lead his team. Despite a rocky start, he bounced back and showed toughness as he led his team to a tremendous season while changing positions in the process. His team fell apart in the tournament and wasn't really tested much throughout the year so he still has a way to go to show that he has the mental fortitude needed at the next level. Evans was probably the most talented freshman in college basketball, but he will go up against players who have similar abilities at the next level. His success will largely hinge on his willingness to improve his game. I think he showed he had the competitiveness and the ability to adapt midseason, which will do him a lot of good at the next level. In the beginning of the year he faced adversity and had to adjust and he evolved into a very successful and at times, actually dominant player by the end of the year.
Extra Info:
-- His three older brothers handle his basketball "business." They started teaching him the fundamentals of the game when he was four years old.
-- As a high school senior he was in the car when his 16-year old cousin killed someone in what was described as a "gang related shooting."

Comparison: Larry Hughes, 6-5, 184, SG
Would be a good fit for: Minnesota Timberwolves, Golden State Warriors, or Toronto Raptors.

Conclusion:
There is no doubt that Evans is extremely talented. However, he did have a rocky beginning of the season when he was being used as a shooting guard. He was at his best and his team was at its best when he was handling the basketball at the point position. I think he showed tremendous maturity in transitioning back to the point guard and helping to lead his team. When he is playing the point he really is at an advantage because he can see over the defense to find his teammates or to create for himself.
While he was at his best at the point in college, I think he will struggle with the quickness that his peers will have at that same position. I also worry that he won't be able to knock down the open three, which would allow the defense to pack in the paint. S, I really do see him at the 2 or even the 3 in the NBA. Either way, he will provide value to a team because of his flexibility to play both guard spots. No matter what position he lands at, he will need to cut down on the turnovers.
I would love to see him in Minnesota or Golden State where he would be next to a guy like
Randy Foye
or a guy like
Monta Ellis
, respectively. I could see Nellie using him as a point-forward type of player. Like Larry Hughes I think he will be too talented to keep out of a starting lineup, at either the point or the 2-guard position. His game is very similar to Hughes'. Everything from his handles, rebounding, theft capabilities and his lack of outside shooting reminds me of Hughes. He also was a one-and-done at a Conference USA school.
In the right situation Evans could really be an effective guard in the NBA. If he improves his perimeter game then he could even become a dynamic player and possibly an All Star. I expect Evans to provide a little bit of everything to pretty much any backcourt, but I would love to see him with a small shooting guard who would allow him to be a decision maker.