NBA Draft analyst Brian Levenson's final mock draft.
1. LA
Clippers
—PF Blake Griffin, Oklahoma University
I wish the rest of the draft was this easy to predict. From day one, Griffin has been the clear-cut favorite to be the top pick in this year's draft. While Griffin isn't as complete as many previous first-round picks have been, his combination of size and athleticism make him a very good pick for the Clippers. Clips fans have a lot to look forward to in a nice young core of Griffin, Al Thornton and Eric Gordon to go along with productive (while fragile) vets in Zach Randolph, Chris Kaman and Baron Davis.
Full Profile
2. Memphis
Grizzlies
—PG Ricky Rubio, Spain
I know reports are leaning toward Hasheem Thabeet, but I still say Memphis can't pass on the Spanish product. Ideally it may want to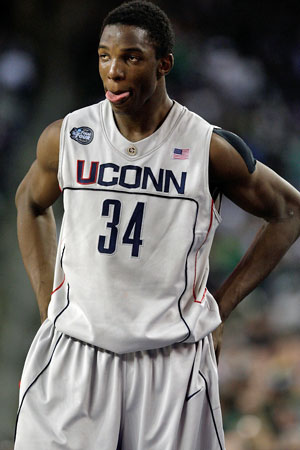 move back to five or six and grab Jordan Hill, who would be a good fit next to Marc Gasol, O.J. Mayo and Rudy Gay.
If they do stay here I still say they take Rubio with the hopes either he or Mike Conley will become the distributor Mayo and Gay so desperately need. I think Gasol is a solid big and I think there is much more upside in Rubio's game than Thabeet's. With that in mind I think the Griz should roll the dice and take Rubio.
Full Profile
3. Oklahoma City
Thunder
—C Hasheem Thabeet, Connecticut
Thabeet instantly provides security for an undersized Jeff Green at the 4 and any defensive liabilities that they have in the front court. It's very rare to have a stopper at the top of the key, and they have that in Russell Westbrook. Add that to a shot blocker in the paint like Thabeet and OKC will be A-OK defensively. The Thunder could look at James Harden here as he would give them another do-it-all scorer, but the move should be to protect the hoop and take the 7-footer.
While Harden would fit nicely here, it is much easier to find a shooting guard than it is to find a 7-footer who will help the entire team defensively. With this pick the Thunder become a very dangerous, up-and-coming team. Add a solid shooting guard and you have one of the most balanced, young starting fives in the league.
Full Profile
4. Sacramento
Kings
—PG Jonny Flynn, Syracuse
I previously had Jennings here as I believed the Kings had to gamble and roll the dice. But, I decided to do a 180 and go with the guy I think is as ready as anybody to compete next year. I have Flynn ranked as a higher prospect than most, but in previous mock drafts I had him slipping to the teens. If he doesn't go to Sacramento I think he won't crack the top 10, so if I was Sacramento I would try to move back in the draft.
Flynn proved time and again he has the goods to compete at the next level. It sounds like GM Geoff Petrie has to make this pick count and I think Flynn will look good in his rookie year while players like Stephen Curry and Brandon Jennings may struggle adjusting.
Full Profile
5. Minnesota
Timberwolves
(acquired from Washington)—SG James Harden, Arizona State
I still think the Wolves are going to move up to nab Rubio. But if they don't they are going to have to take Harden here. They now have a gaping hole at shooting guard and Harden is the best one in the draft. He will instantly make Kevin Love and Al Jefferson better down low and will give them a legit perimeter threat. They could look to Curry or even Jordan Hill here, but I don't see how Jordan Hill fits and they have their next pick to address their point guard needs.
Full Profile
6. Minnesota Timberwolves—PG/SG Tyreke Evans, Memphis
A lot of people believe the Wolves would/should look to Curry here, but I think Evans has to be the play. As I noted earlier I would love to see them move up to snatch Rubio, but if they are unable to do so Evans is certainly a nice consolation prize. I know Wolves fans are really interested in getting a true point guard, but Evans is the best player available here and combined with Harden shouldn't struggle with getting the ball into their teammates hands.
I have had him penciled in at the No. 6 spot since
Mock Draft 1.0
and I have no reason to believe he won't still be heading to the Wolves. While he may not be the true point guard many Wolves fans covet, he instantly gives them another playmaker to go along with the scoring and ability of Haden. Once again the best thing is for them to move up, but if they stay here then take the two best players on the board.
Full Profile
7. Golden State
Warriors
—PF Jordan Hill, Arizona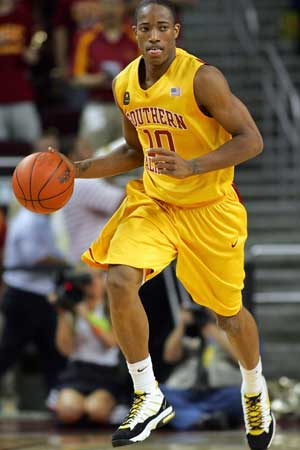 While the Warriors have Brandan Wright and Anthony Randolph as young and raw "power forwards" they still need to find someone who can help get easy points in the paint next to Andris Biedrins. I know some would like them to look Holiday, Jennings, Curry or Flynn's way, but I just don't see them passing on Hill if he is available.
I know that Monta Ellis isn't a typical point guard, but the bottom line is he can give you minutes there and the Warriors have such a glut of guards that they can get by with what they have. But do you really want to hand the keys over at power forward to Randolph and Wright? Some will probably say yes, but I think Hill would automatically be an upgrade over both players. He is much different than Randolph as he is truly a power forward who doesn't handle the ball on the perimeter. He also would get them some easy buckets inside based on his size and athleticism. While I am not extremely high on Hill, I do think he would be a valuable piece to an up-tempo team like Golden State, one that needs to find some interior or mid-range scoring. Hill has to be the guy at No. 7.
Full Profile
8. New York
Knicks
—PG Stephen Curry, Davidson
The love affair with Curry and New York finally concludes and Knick fans can hope that Curry texts
LeBron James
daily about how amazing "the city" is. With all of the LeBron stuff aside, Curry couldn't ask for a better coach to play for than Mike D'Antoni. A player like Curry needs confidence and D'Antoni will give him the green light to find his shooter's stroke. The Knicks could look to Jennings or Holiday as well, but I think Curry is their guy and if he is available they will snatch him up.
Full Profile
9. Toronto
Raptors
—SG/SF Demar DeRozan, USC
This seems like the biggest lock after the Blake Griffin pick. Most of the teams before Toronto have plenty of wing players and that is clearly the Raptors' biggest need. While DeRozan remains raw, he has the athleticism and the skill set teams look for in a perimeter player. The Raptors have been lacking athleticism since Vince Carter left and DeRozan would benefit playing next to the crafty Jose Calderon. The only way I see Toronto going away from DeRozan is if they like Gerald Henderson more or if they believe that Chris Bosh is already gone. But even if that is the case I still believe all signs point to DeRozan.
Full Profile
10. Milwaukee
Bucks
—PG Jrue Holiday, UCLA
With Ramon Sessions likely leaving for free agency, the Bucks look for their point guard of the future in Jrue Holiday. There have been talks they like Jeff Teague, but I think Holiday fits coach Scott Skiles' defensive mentality. While I would look at Jennings here, I don't think he fits what Skiles looks for in a point guard. I also think that DeJuan Blair would give them much more toughness next to Andrew Bogut, but I understand their reasoning for trying to solidify the lead guard position.
Holiday has a lot of upside and has a team-first mentality that goes with what Skiles is trying to build. He looks like the right fit for them at No. 10.
Full Profile
11. New Jersey
Nets
—PF DeJuan Blair, Pittsburgh
Brook Lopez proved to be a tremendous pick for the Nets last year. Blair would sure up their frontcourt and does a lot of the stuff Lopez doesn't. With Blair, Lopez, Ryan Anderson and Yi Jianlian all bringing something different to the table the Nets would be in position to have a very good four-man rotation of bigs for many years to come. Add a wing or two in free agency next year and the Nets would have a very solid core.
Blair gives them some "meat" and muscle that would compliment Lopez up front. Teams would really be in for a long night when having to go against the length of Lopez and the girth of Blair.
Full Profile
12. Charlotte
Bobcats
—SG Gerald Henderson, Duke
Toronto and Charlotte are the two teams locked in for a wing player. If for some reason Henderson goes to Toronto, then expect DeRozan here and vice versa. Henderson would look very good in the backcourt with D.J. Augustin. The Bobcats could be an interesting team next year with the two youngsters in the backcourt, interchangeable forwards Gerald Wallace and Boris Diaw in the frontcourt combined with anchor Emeka Okafor holding down the paint.
Henderson fits what the team is looking for and would be a nice addition to their core.
Full Profile
13. Indiana
Pacers
—PG Brandon Jennings, Lottomatica Roma
Teams will be hesitant to roll the dice on Jennings and ultimately he drops here. The Pacers can basically go anywhere with this pick and they will go the high-risk, high-reward pick of Jennings. The Pacers have a lot of long-term contracts locked into their core of Troy Murphy, Mike Dunleavy and Danny Granger whether they like it or not. With Brandon Rush and Roy Hibbert each showing flashes, I think they need to look for a young playmaker if they really want to turn everything around.
While T.J. Ford is still a solid point guard, Jennings' potential is extremely high. A 1-2 punch of Jennings and Ford from the point really
could help the Pacers get the most out of their shooters. Go ahead, Mr. Bird and take the guy with the most potential on the board.
Full Profile
14. Phoenix
Suns
—SF Earl Clark, Louisville
Phoenix could look for a point guard here, but I think it will go for a wing. Clark has tremendous upside and the ability to play both forward positions should they trade or lose Amar'e Stoudemire next year. His shooting ability makes him an interesting player alongside Steve Nash. The Suns also may have to completely rebuild in 2010 with Amare, Shaq and Nash all possibly leaving via free agency.
They could look at James Johnson or Ty Lawson as Nash's replacement here, but I think Clark fits their system and would be a good guy to contribute next year and be a focal point in future years.
Full Profile
15. Detroit
Pistons
—PF Tyler Hansbrough, UNC
I had them previously taking Gani Lawal, who has since pulled out of the draft. With Hansbrough's good Combine in Chicago and with his workman-like mentality I have him jumping all the way into the teens and landing with the Pistons. The Pistons core is Tayshaun Prince, Ric hard Hamilton and Rodney Stuckey and those three guys really need a big who can do the dirty work down low.
While Hansbrough may not have the biggest upside, he will fit nicely with the three guys mentioned above and will fit well with the Pistons' hard-at-work culture. They could go for B.J. Mullens here, but I just don't see Joe D. going after another Darko-esque big. Hansbrough's ready to go and would give the Pistons a solid big.
Full Profile
16. Chicago
Bulls
-- SF James Johnson, Wake Forest
Johnson would give them a solid backup forward for Luol Deng and Tyrus Thomas. He is kind of a mix of the two as he possesses Thomas' athleticism, but also has some of Deng's perimeter skills. If one of them goes down or is ineffective, then Johnson could come in and contribute. Johnson has great ability and would be a nice addition since he would add much-needed depth to a maturing team.
Full Profile
17. Philadelphia
76ers
—PG Ty Lawson, UNC
He is terrific in transition, which is important for Andre Igoudala, Marreese Speights, Thaddeus Young and Sam Dalembert. His ability to knock down spot-up threes is helpful as they desperately struggled when Igoudala was doubled last year.
The question will be how he plays with a guy like Elton Brand, who is a halfcourt guy. They could elect to go with a player like Teague, who has the ability to create in the halfcourt. He's a good fit for the 76ers and is mature enough that he could be given a shot to replace Andre Miller from the get go.
Full Profile
18. Minnesota Timberwolves—SF Terrence Williams, Louisville
If T-Will is still there at 18 I would be shocked to see the T-Wolves pass up on him. They have some tremendous athletes on the wing that haven't quite worked out for various reasons (Carney and Brewer). Williams would provide a tougher player on the perimeter and will give them another ball handler that they can use at point forward when needed.
If the Wolves can get Evans, Harden and Williams then they would have added to legit sized NBA players who can do a little bit of everything on the floor. A starting lineup of those three rookies with Love and Jefferson is really interesting and obviously really young. All three of those guys could give you minutes at the point and all three could help Jefferson and Love out on the boards. I also think that the Wolves would be able to play an aggressive, switching defense where they don't worry about fighting thru screens and use their backcourt size to their advantage. Both Wiliams and Harden are used to playing this style of defense from college. They also would've added a toughness to their team that isn't there now.
Full Profile
19. Atlanta
Hawks
—PG Jeff Teague, Wake
I still say that the Hawks should go for a point guard here. One could argue they should take the best player available, but I really think it's important they continue to try to find their lead guard. I think it's a toss-up between Eric Maynor and Teague and this time I am going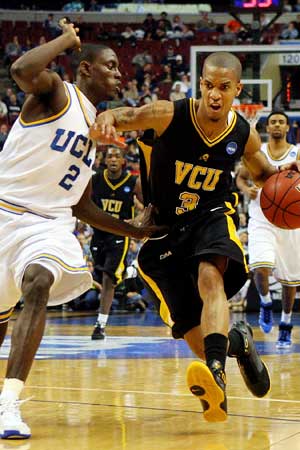 to have them going with Teague. Maynor does remind me a little of Acie Law, who they already have in the point guard stable. With that in mind, I think Maynor might be a good fit to go head-to-head with Law for the point guard of the future.
Teague has an awful lot to like about his game, but his leadership skills are certainly shaky. The Hawks could look to take and NBA-ready player like Sam Young, who would be another athlete and add depth to their forward crop.
Full Profile
20. Utah
Jazz
—C B.J. Mullens, Ohio State
Mullens stays here due to the Jazz's need for depth in the front court. With Carlos Boozer or Paul Millsap leaving they will need another big and Mullens certainly has the size to play in the NBA. I am not a big fan of Mullens, but I understand why teams are intrigued. He is really the only guy after Thabeet who might be able to become an NBA center and teams fall in love with 7-footers.
Full Profile
21. New Orleans
Hornets
—PG Eric Maynor, VCU
Since Jannero Pargo left last year the team has desperately needed someone who could backup Chris Paul. Maynor's clutch performances in tournaments should equip him to deal with the pressure that comes with backing up the best point guard in the NBA. Maynor's size could also allow them to play some small ball and shift him to the 2 where he can get some time playing alongside CP3.
Full Profile
22. Portland Trailblazers (acquired from Dallas)-SF Austin Daye, Gonzaga
I had them taking Taj Gibson at 24, but I don't think they would have moved up 2 spots for the power forward. I know that they already have Batum and Outlaw, but I am guessing that the Trailblazers are going to try to move one of those guys with one of their young point guards for a more legit starting point guard. Daye is in their back yard so my logic is that they saw something that they liked and think he will fit nicely with their other young players. I can't justify putting Gibson here because I just don't see the need to leap frog the Kings to get him.
Full Profile

23. Sacramento Kings—SF Sam Young, Pittsburgh
The Kings' wings are really lacking strength. Guys like Martin, Garcia and even Dontae Green are all long, but none of them possess the slashing or rebounding that Young could give them on the wing. He would instantly improve their athleticism and would give them an NBA-ready player who can play multiple positions.
Full Profile
24. Dallas
Mavericks
(acquired from Portland)—SG Marcus Thornton, LSU
Thornton would provide toughness to a team that always seems to lack toughness in the playoffs. They also have need at shooting guard with Jerry Stackhouse's decline in full effect. Thornton would fit nicely with whomever they decide to go with at point guard and would be a solid spark off the bench if they want to start Antoine Wright in the beginning. I think that Thornton may be their guy and they know hte Kings won't take him at 23.
Full Profile
25. Oklahoma City Thunder —PG Darren Collison, UCLA
Collison finds himself back with his buddy Westbrook in Oklahoma City. This could obviously change if they end up getting Rubio, but I think they could use a steady backup hand to go with the explosive, but turnover prone Westbrook. Collison is the ball-control point guard who can settle a team down and take high-percentage shots. He would be a nice player to have next to the gunners of Westbrook, Kevin Durant and Jeff Green.
Full Profile
26. Chicago Bulls—SG Wayne Ellington, UNC
Ellington gives them another shooter to bring off the bench and provides them some insurance in case Ben Gordon leaves. With the way Derrick Rose plays it would be wise for them to surround him with good shooters. Ellington would fit nicely backing up John Salmons and would fit well with Kirk Hinrich or Rose in the backcourt when he enters the game.
Full Profile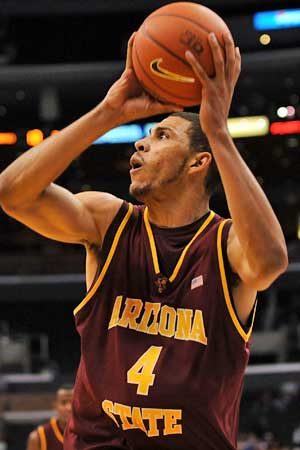 27. Memphis Grizzlies—SF Omri Casspi, Israel
Casspi is a very tough combo forward who is basically the anti-Rudy Gay. I also think Memphis will look to cut costs and they could decide to leave Casspi overseas. I think they should look to Jeff Pendergraph here, but I could see Memphis either dealing this pick for money or taking a Euro.
Full Profile
28. Minnesota Timberwolves—PG Patrick Mills, St. Mary's
The Wolves complete their 1st round with an actual true point guard. While Williams, Evans and even Harden can all can play the point, there are no questions as to what position Mills plays. He would give them quickness and an ability to push the ball to get their scorers the ball. While Mills doesn't bring the flexibility that the previous picks bring, he would give them a steady hand in the backcourt that might be able to capitalize on the talents of those aforementioned players. I think he's a good fit in Minnesota.
Full Profile
29. LA
Lakers
— SF Derrick Brown, Xavier
The Lakers have a lot of players coming back but they do have uncertainty at small forward. Brown would serve as insurance if
Trevor Ariza
or
Lamar Odom
bolt. He actually is a similar player to Ariza as he can knock down the three, has a freakish wing span and is a tremendous athlete. Brown is still erratic, but the Lakers can and should take a shot at him as he has a lot of upside.
Full Profile
30. Cleveland
Cavaliers
—PF Jeff Pendergraph, Arizona State
The more tape I watched of Pendergraph the more I thought about how great of a fit he would be for the Cavs. When he was playing with Harden (who is a very good passer), he just understood how to slide up or down to the basket to make himself available. I kept thinking about LeBron and how many easy buckets he would get Pendergraph. He also has legit size to help a team in desperate need of strength and athleticism down low. The guy has the ability to hit the open jumper, which is also important when playing with LeBron and he doesn't mind going down low and doing the dirty work. I can't think of too many players in this draft who would be a better fit for what the Cavs' need than Pendergraph.
Full Profile
Other potential 1st round picks to keep an eye on:

1. SF Dajuan Summers, Georgetown
Look for a team to fall in love with his combination of size, shooting touch and athleticism. I wouldn't be surprised if he found a home somewhere in the 20's. I have no doubt that he probably wowed some teams in private work outs, but the body of work in college and the in game film that I have watched just don't do much for me.
Full Profile
2. PF Taj Gibson, USC
I think a team will fall in love with Gibson's freakishly long wing span and his ability to block shots. Also, I would think a playoff team would actually be intrigued by his age and his ability to come in and compete right away. I had him in the 1st round in previous mock drafts but I just couldn't find him a home in this one. A trade or two could certainly change that.
Full Profile

3. PG Sergio Llull, Real Madrid (Spain)
The speedy point guard has the size and ability to play the point in the NBA. A team may take him in the hopes that he can really grow into a player overseas. Real Madrid is a team littered with former draft picks and former NBA players so he will be getting some very good experience should he decide to stay overseas.
Full Profile
4. SF Chase Budinger, Arizona
Nobody can argue that the guy has serious skills, but his passiveness has taken a toll on his draft stock. But, once again his leaping ability, size and shooting touch make him an intriguing prospect with legit 1st round talent. Will the talent translate into a solid role player? I am not so sure about that.
Full Profile

5. PG Toney Douglas, Florida State
The combo guard has unbelievable scoring ability. I think it will be tough for him to crack the 1st round due to the point guard depth in this draft, but he certainly is a talented guard that deserves a look.
Full Profile
6. PG/SG Nick Calathes, Florida
Calathes is an interesting guard because he provides flexibility in the backcourt due to his size. He also is intriguing because it sounds like he is willing to go overseas to work on his game. Those two points combined with the skills that he showed in Florida could land him a spot in the 20's.
Full Profile
7. SG Dionte Christmas, Temple
I love his ability to fill it up, but I am not sure if teams believe that he will be effective with less touches. There's no doubting Christmas' ability to get his shot off which should get him some looks in the 1st round.
Full Profile

8. SG Jermaine Taylor, University Central Florida
Taylor averaged 26 PPG last year as one of the top scorers in all of college basketball. He has solid size and athleticism that should help him be an effective shooting guard in the NBA. Taylor's scoring skills and good showing at the Portsmouth Invitational might have bumped him into the 1st round.
Full Profile

9. PF DeMarre Carroll, Missouri
The junk yard dog of the draft class has the work ethic and energy that playoff teams look for in a late 1st round product. While Carroll has work to do and is a bit of a tweener, you know that you are going to get someone who is going to bring it in practice and in the game.
Full Profile

10. PG Rodrigue Beaubois, Cholet (France)
A good sized point guard with a freakish 6-10 wing span and solid play making ability might catch the eyes of some team late in the 1st round. Like many of the Euro's, he is attractive because teams looking to save cash and roster spots can leave him overseas where he can work on his weaknesses.
Full Profile