Patrick Mills: 6-0, 180, PG, So. (St. Mary's)
Draft Rank: #23
PG Rank: #10
Strengths:
Lightning-quick point guard. Is at his best when he gets inside the three-point line and pulls up for a jumper or a floater. Has experience playing on the international stage against NBA players and has had success at that level. If you don't keep him in front of you he will blow right by you. Tremendous first step and blow-by speed. Uses tremendous quickness on defense to stay with his man before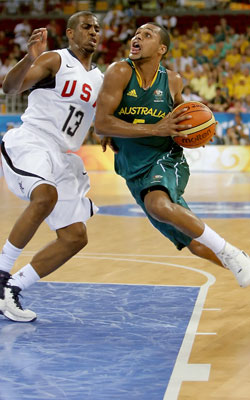 opposing team gets into the halfcourt set. Is a very good off-the-ball defender and uses his quickness to get deflections and steals. Breaks down a defense with a tremendous first step. Uses misdirection on passes as he fakes one way and heads the other way. While he needs to improve his outside shooting, he does have good shooting mechanics. Good free-throw shooter. Is great at pushing the ball and tremendous in transition. Very good speed with the ball in his hands. Good ball-handling skills. Understands angles and creases in a defense so that he can attack the weakest parts of a defense.
Weaknesses:
Undersized point guard. Often looks for his shot before his teammates. Can be a liability on man-to-man halfcourt defense as he doesn't have the size to stick with bigger guards. He also sometimes gambles on defense and allows his opponent to get into the paint. Needs to improve his range and consistency when shooting from the outside. His field-goal percentage is way too low for a point guard as he needs to improve his shot selection. Needs to improve his assist-to-turnover ratio. Injury problems. Settles for outside, contested shots too often. Often avoids contact when he gets into the lane, which leads to him not getting to the foul line as often as he should.
Mental:

Mills does have great leadership capabilities. He was a force on a solid St. Mary's team that clearly missed his leadership when he was injured. He is a tempo-setting guard whose speed and energy can spread to the rest of his teammates. I am concerned about how injuries will affect his play. He is at his best when he is going full speed and attacking. If he accumulates injuries he will be significantly less likely to do what he does best, and in essence wouldn't have much value in the next level. He needs to show that he has a fearless mentality and that he is not afraid of contact.
Comparison: Speedy Claxton, 5-11, 166, PG
Would be a good fit for: Minnesota Timberwolves, San Antonio Spurs (no first-round pick), Sacramento Kings
Conclusion:
Like the rest of the point guards in this draft, Mills is an intriguing prospect. He showed flashes of brilliance in both college and international play, but he also had his problems. The biggest thing Mills has going for him is his speed in transition. When he is jumping pass lanes or starting the fast break he is very effective. It will be important for him that he goes to a team that values transition buckets and gives him the green light to attack earlier rather than later in the shot clock.
When dissecting the numbers there are serious flaws in what Mills has done in his two years at St. Mary's. As mentioned previously, his assist-to-turnover ratio and his shooting percentage are way too low for a point guard and hardly parlay into a point guard at the next level. However, I watched a lot of his games this year and he really did what his team often needed him to do by setting the tempo at both ends. He will really have to improve his passing and shooting ability if he wants to contribute in the NBA, but I like some of the skills that he brings to the next level. His speed and defensive hound-dog mentality should allow him to be a solid, spark plug backup.