Brandon Jennings: 6-1, 170, PG, (Lottomatica Roma)

Draft Rank: #8

PG Rank: #3

Strengths:
Tremendous quickness and shiftiness to his game. Has a great crossover, which he uses to create space from the defender. Has an array of ways that he can finish in the lane, including a one-handed floater that is very effective. Has a great vertical for a guy his size. Has the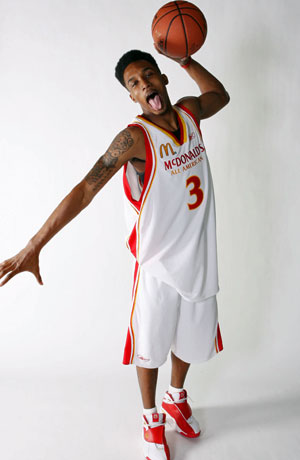 hops to take a hit off the defender and still finish. Throws the alley-oop ball as well as anyone in the draft. His passes are extremely quick. He does an amazing job of splitting the defense on picks and really getting into the heart of the defense. Goes and gets the ball on offense and doesn't struggle to separate from his defender to do so. It is very hard to keep the ball out of his hands. Uses his quickness and ball handling to get to where he wants to go on the floor. Gets very good elevation on his jump shot. Has a quick release on his jumper. Can create for himself by using an array of ball handling moves. He is a handful once he gets a step on his man, which he often does with ease and then attacks the rim with his left. He is extremely fluid and bouncy when he gets a full head of steam and is heading toward the hoop. Does a good job of keeping the ball on his hip and exploding to the backboard as he attacks the hoop. Has quick hands and a sneaky jab that he uses to get steals. Can really get up and down the court quickly and hurt teams in transition by attacking the rim or creating for his teammates. Has very good body control.
Weaknesses:
Very thin. Will try to make the impossible pass and because of that will often force the ball when the play isn't there. Still needs to work on his shooting consistency. Needs to focus more on the defensive end. Needs to do a better job of hedging on screens and closing out on the perimeter as he often plays to far off of his man. Often rushes on pick and rolls and doesn't allow for the roller to get open. When he isn't splitting the defense on picks, he often is not rubbing off of the screener, which leads to him settling for jump shots on the perimeter. Once he gets into the lane he struggles when the defense collapses and he often turns the ball over when looking for his teammates. Often fades back on three-point shots rather than stepping into them, which will become a problem as he tries to extend his range to the NBA three. Sometimes shows laziness with his passes. Definitely favors his left when attacking the rim. Often forces his own shot in transition rather than creating for bigger and better-finishing teammates.
Mental:
The fact he went overseas has a lot to do with him as a prospect. But he has a confidence and certainty about him that you love from a point guard. He believes in his own abilities and I think that will rub off on his teammates. As a point guard I think he can be effective because of his confidence in his game and the idea that he won't back down from other players. Now can that confidence backfire and turn into arrogance? Possibly, but I would rather have a player with built-in-leadership capabilities then someone who is passive. With that said Jennings needs to still prove he is most interested in winning rather than putting on a show. NBA coaches will not be supportive of his highlight attempts when there is an easier play to be made. I also noticed that he often complained about not getting "and-one" calls when he went up, so hopefully he will focus more on getting back on defense rather than arguing with the refs. Jennings did however show tremendous maturity overseas as he tried to change his game to fit his team needs, so I think that his flashiness will be toned down as he gets older. Overall, I actually like his mental makeup and think he has some of the leadership abilities that all of the great point guards possess.
Comparison: Steve Francis. 6-3, 195, PG
Would be a good fit for: Sacramento Kings, Golden State Warriors, New York Knicks
Conclusion:
Jennings is probably the biggest wild card in the draft. We never saw him play in college and his minutes were inconsistent overseas. However, he does possess a swagger and a star quality that the NBA loves. The guy appears to have all of the moves and game to be a successful guard at the NBA level, but it's still hard to get a reading on it when his minutes were so limited. I was also shocked to see him often playing off the ball in Rome and letting his teammates bring up the ball. In many of his games he would be off the ball and then pop up to get the ball in the half court set, as off guards
Kobe Bryant
and
LeBron James
do. I think that this role stunted his development as he is the type of player who loves to get up and down and push the ball after both made and missed baskets. Any team that drafts him will surely give him the keys to the car immediately and wouldn't and shouldn't hesitate to let him bring up the ball in the backcourt, as that is where he excels.
I really look forward to seeing how he does when he is surrounded by athletes. The guy is so creative and so athletically gifted that he would often be by himself in Europe when he tried to make plays. When watching film you could tell that he often made passes to guys thinking that they could get to the spot and instead they were to slow or not athletic to get there. Give Jennings a couple of high-flying wings and he will instantly make them better -- and his game will be better as a result. The wings in the NBA are just so much more athletic then they are in Europe and Jennings will thrive as a result of that.
I think he is a better passer than Francis was, but I see him as a similar type of player. If Jennings can really focus on passing and getting his teammates going rather than scoring then I really think he will be a special player in the NBA. I also believe Sacramento should roll the dice and snag him up at No. 4 in the draft. Jennings would instantly give that city a player who they can be excited about and Sacramento has the time to let him develop. Furthermore, if you had an athletic wing then all of the sudden the Kings would have an intriguing and young starting lineup of
Spencer Hawes
,
Jason Thompson
,
Kevin Martin
, Jennings and whichever athletic three they go after (maybe a
Trevor Ariza
type?). Finally, like Ricky Rubio, the upside on Jennings is extremely high. If a team is patient with him and lets him grown into a starting point guard then I believe they will be happy with the results.