Ricky Rubio: 6-4, 180 PG (DKV Joventut)

Draft Rank: #3

PG Rank: #1

Strengths:

The first thing that stands out about him is his tremendously creative passing ability. He uses misdirection and a variety of moves to get the ball exactly where he wants to. He is very good in transition. Has great size to play the point and uses that size to read a defense and make passes. His size also allows him to be very effective on pick and rolls -- as the big man slips to the hoop he is able to hit him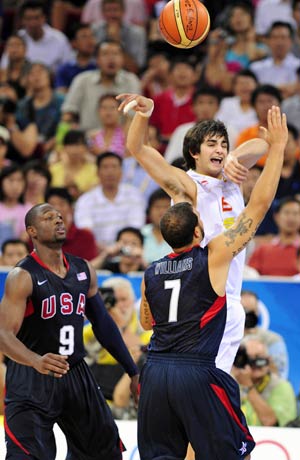 in stride for a dunk or layup. He has very quick hands, which allow him to steal the ball and get his team in transition situations where he excels. Has great anticipation to steal the ball. Loves to pressure the opposing team's point guard after made baskets. Has tremendous feet and long strides that he uses to get to the rim, often times using only two steps.
Is a good floor general who makes sure to get his teammates in a position where they can succeed. Even when he doesn't have the ball in his hands he is constantly directing his teammates, letting them know where they should be. He does a good job of going into the defense and drawing fouls. Has a very good first step and does a great job of getting his defender on his hip. Has great handles with both hands and doesn't lose speed when running and dribbling. While he does turn the ball over a lot, he also has great vision that allows him to make some passes that the average point guard wouldn't even see. Has good pull-up ability that he uses when in transition. In isolation situations he can really break down a defense because of his length and quickness, which is very important when you are a play maker. Does a great job of changing gears and attacking the paint when his best option is to attack. When he does have time to shoot he squares up nicely and can knock down the open shot.
Weaknesses:

Doesn't have good lift on his shot. He often struggles and forces shots up when he gets to the rim. Needs to get more elevation around the rim or else he will get his shot blocked often. Is not a consistent spot-up shooter. Needs to be able to swing his right foot forward when shooting from the perimeter and he won't always have the time to do that in the NBA. Often misses shots short because he forces the issue when trying to score. Turns the ball over and forces the issue way too much. When he gets into the paint he often tries to put added arc on his shot, which causes the ball to hit the backboard or the side of the rim and reduces his accuracy. Sometimes pounds the ball and wastes time rather than passing the ball around to his teammates. Doesn't use his size to exploit smaller players in the post.

Mental:

Rubio's years of professional experience make him much more mentally "ready" than some of his peers. For an 18 year old he sure has no problem telling his teammates where they should be on the court. He showed this not only with his European team, but also with his strong play on a very good Spanish National team. When watching film you can see him constantly talking, encouraging and pointing to teammates to make sure they are doing what they are supposed to do. This is extremely important for a point guard and the fact that he already does that stuff at such a young age is very encouraging to his mental makeup. After watching film I was concerned about his steadiness when running a team. There were times where he clearly got rattled when he tried to force the issue and turned the ball over. He will have to learn quickly that sometimes you can't force the issue and you have to take what the defense is giving you. How he reacts to those lessons will be key in his future success.
Comparison: Jason Kidd, 6-4, 210, PG
Would be a good fit for: Memphis Grizzlies, Sacramento Kings or Washington Wizards

Conclusion:

Rubio is definitely a work in progress. He has to significantly improve on his shooting consistency and will need to bulk up so that he can finish once he gets into the lane, but he does have a ton of potential. His size, quickness and passing ability make him a unique prospect who could grow into an All-Star point guard. The key word for Rubio is "grow." Make no mistake, there are more ready NBA point guards in this year's draft. He has definite flaws in his game and from the tape I watched he was often very erratic. That inconsistent play won't fly in the NBA. He has to really learn to cherish every possession and focus when he gets open looks.
If you haven't seen Rubio play you really need to understand that he has tremendous speed with the ball in his hands. The best point guards always are as fast with the ball as they are without it and Rubio's no different in that regard. I struggled to find a comparison for Rubio because it is rare to see a player with his length possess the quickness and passing ability that he has. The guy who he reminds me a little of is Jason Kidd. Now before everyone goes crazy on me, I would like to note that I don't think he will be as good as Kidd, but simply that his game reminds me of Kidd's.
Like Kidd, Rubio uses his size and speed to his advantage and knows how to attack creases to find the open man. One of the big differences was Kidd's ability to lock down other team's point guards in his prime. I really think Rubio may struggle with opposing team's point guards but offensively, he does have the potential to control a game in a similar fashion to the way that Kidd did in his prime. All things considered, I really think Rubio is an intriguing prospect. Like most great playmakers it would be ideal for him to be put in a system that allows him to play free and not be overly concerned with protecting the basketball. He is a classic case of a raw-but-talented point guard who will most likely get thrown into the fire right away.
As I noted earlier, the potential is there for him to be a very effective point guard, but don't expect him to come in and be a ball-control point guard. He may struggle early in his career, but give him some time to improve and he should end up being the best point guard in this year's draft. If a team is expecting him to come in right away and turn their franchise around it is sorely mistaken. But over time he could and should be the type of point guard you want to build a team around.