Dionte Christmas: 6-5, 211, SG, Sr. (Temple University)
Draft Rank: #31
SG Rank: #7
Strengths:
Christmas is a pure perimeter player who can really knock down the jump shot and three pointer. He can play within an offense or be a go-to scorer for his team, which is evident, as he can shoot from just about everywhere on the court. His shot, which has really good form and a quick release is particularly dangerous at the mid-range level. He can pull up off the dribble and score with ease. Is unfazed when there is a hand in his face during the shot, mostly because he gets good elevation and has a high arc on his ball. Apt at fading back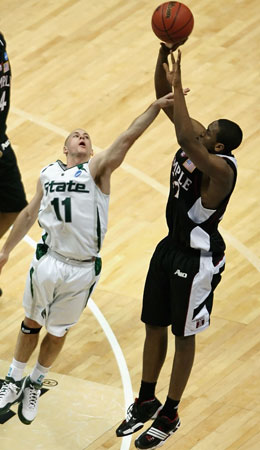 when shooting, which makes it nearly impossible to block his shot. Doesn't need to be square when rising to shoot because he excels at adjusting his body mid-air to face the hoop. When he gets hot he can use a jab step to get by his man get into the paint -- where he'll often finish with a finger roll using both hands.
He constantly moves without the ball, often going side to side to get to an open shot. A good catch-and-shoot player. Rubs off of picks very well to give him separation. Good endurance, can long major minutes. He has good handles for a wing. Defensively he's solid, and uses his feet very well to jump into passing lanes causing deflections
Weaknesses:
He doesn't attack the rim enough and needs to get to the foul line more. Needs to become a better passer as he turns the ball over too much. Doesn't have elite wing-player athleticism. Very streaky and can really hurt his team when he isn't making shots. Has bad shot selection. Needs to get stronger, which is evident as he doesn't do a good job of finishing around the rim. Is often careless with his passes when he is double teamed or when he is attacking the rim and looking for his teammates. Has awkward shooting mechanics where he takes the ball almost down to his knee and then brings the ball close to his chest to shoot. Really struggles when he has to take the ball to the hoop. Doesn't shoot for a good percentage. Doesn't make enough plays for his teammates.
Mental:

Few players have a shorter memory than Christmas. Even when he is having a bad shooting day he continues to try to shoot his way out of it. His confidence almost never wavers and he truly believes every time he touches the ball that he can score from that spot. I love his willingness to put the game in his hands and his desire to take the big shot.
Comparison: Francisco Garcia, 6-7, 190, SG
Conclusion:
Christmas is used to being the offensive focal point. At Temple his teammates would constantly be looking for him and ran screens off the ball to get him going. In the NBA he is going to have to find a way to help without having the offense catering to him. When Christmas gets going he is as good a scorer as any. He is an extremely streaky player who can change the course of a game with his scoring. That is going to be his best asset.
I compared him to Garcia as I think he can be a similar scorer at the next level. When Garcia gets hot from the perimeter he can be very tough to guard and he has a confidence and a belief in his scoring ability that mirrors Christmas'. Both guys have legit shooting guard size and heavily rely on themselves to get the shot off.
I really like Christmas' game. He has the makings of a guy who can be used off the bench as a scoring spark plug. If given the green light he could be a very effective backup shooting guard and he may be able to work himself into a starting lineup. He has been one of the best scorers in the country the last three years and I think he will be able to score in the NBA as well.