Terrence Williams: 6-6, 220, SF, Sr. (University of Louisville)

Draft rank: #14

SF rank: #1
Strengths:

Is a big-time player with the game on the line. With the ball in his hands at the end of the game he makes sure to do what his team needs him to do. Has good shooting mechanics. Gets good lift on his shot. Very tough when taking the ball to the hoop. A leader. Has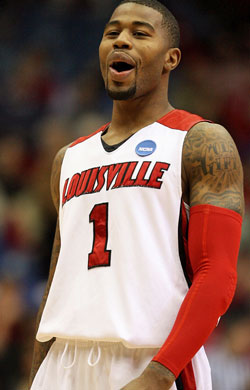 above-average athleticism. Has good handles for a perimeter player. Plays with tremendous energy on both ends of the floor. Doesn't back down from his opponents and is extremely aggressive when attacking the rim. Gets at his man defensively. A tremendous rebounder for a player his size, which helps on the defensive and offensive boards. Has the flexibility to play multiple positions, including point forward when need be. Can really fill up a stat sheet, but does so many good things that also don't show up in statistics. Can defend bigger guards and wings as well as the smaller, quicker guards. He improved not only his shooting percentage but also his steals, assists and rebounds consistently in his four years at Louisville.

Weaknesses:

Settles for his jump shot. Doesn't always take good shots. Doesn't have great one-on-one breakdown ability. He doesn't do a great job of penetrating into the paint and creating offense for others on his team. Needs to drastically improve his free-throw shooting ability. Not a dominant scorer.
Mental:

I love his mental makeup. He really encourages his teammates and always brings an intensity to the game that few players can match. I also love his late-game abilities and his fearless mentality. Williams is often the toughest player on the floor, and that rubs off on his teammates. He appears to be all about winning and is willing to do whatever is needed to help his team. He has shown his maturity and growth throughout the years as his team has improved with his game. I love the way he brings intensity to the game, but also has enough respect for his teammates to not embarrass them. He is charismatic and boisterous, yet he has a selflessness that all good leaders have. As far as mental makeups go, there are few in this year's draft that I would rather have then Williams.
Extra Info:
-- Set the record for most steals in a Big East Tournament (14)
-- Is the only player in Louisville history with 1,500 points, 900 rebounds, 500 assists and 200 steals
-- His father passed away when he was 6 years old

Would be a good fit for: Phoenix Suns, Chicago Bulls or Minnesota Timberwolves

Comparison: Ruben Patterson, 6-5, 224, SF

Conclusion:

Williams is one of those guys who will make teams pay for passing on him. His ceiling isn't as high as a lot of the guys above him, but there is no doubt in my mind he will have a long NBA career. He does too many good things on the court not to be on an NBA roster for many years to come. His flexibility makes him a very strong candidate to come off the bench and get minutes right away.
Williams' toughness would be a welcome addition to many teams and I envision he will be a leader as he gets more playing time throughout his career. He also should be able to improve on his shooting, which is a major concern for him entering the NBA. His athleticism, defense and intangibles would be a welcome addition to almost any eight-man rotation in the NBA.
I would love to see Phoenix give him a shot as he would obviously thrive in its up-tempo system and would give them a much needed hard-nosed defender. I also could see him on a team like the Bulls where he could backup Luol Deng and the other guard spots when needed. Ultimately, I see him falling to the Timberwolves, where he would be a welcome addition to the fragile wing play of Rodney Carney and Corey Brewer.
All in all there is a lot to like about Williams and what he brings to the table. In a draft of uncertainty he may be the guy who lasts the longest in the league.