Ty Lawson: 6-0, 195, Jr., PG (University of North Carolina)
Draft Rank: #19
PG Rank: #8
Strengths:
Fastest player in the draft with the ball in his hands. Loves to get out and push the ball up the floor. Has a great first step that allows him to breakdown a defense and create for others, as well as himself. Has improved his shooting year after year. Has good ball-handling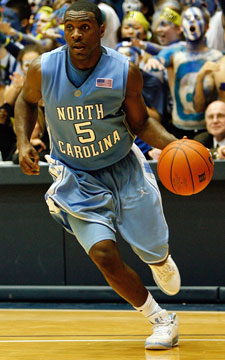 skills and doesn't slow up when he is dribbling. Knows how to get into the lane and jump-stop for a mid-range jumpshot. Has a variety of creative shots that he can use in order to finish when he gets into the lane. Has a very thick frame that helps make up for his lack of height. This past year he proved that he could knock down the college three at an amazing rate. Is a winner. Has very quick hands and good instincts to get steals. Has very quick feet that will allow him to stay in front of his man. His assist-to-turnover ratio is great.
Weaknesses:
While he showed his ability to knock down the college three, I am not sure he has the mechanics or the range to knock down the pro three. Undersized guard who will be a liability against bigger guards who can post up. Turns the ball over too much when getting into the paint, instead of dishing the ball off. Doesn't have great athleticism. Will have trouble finishing at the next level. Favors his right hand and has a weak left when penetrating. Injury prone.

Mental:
Every season he has improved his shooting and the only way to do that is by practice and a strong work ethic. Really controls the flow of the game and sets up his teammates so that they can succeed. Lead his team this year even when he was hurt. When he was out of the lineup he still supported his teammates on the bench.

Extra info:
-- 2009 ACC Player of the Year (first point guard to win that award since 1978)
-- 2009 Bob Cousy Award winner for the best point guard in the country
-- Set the record for the most steals in the NCAA title game (8)
Comparison: Mike James, 6-2, 188, PG
Would be a good fit for: New York Knicks, Phoenix Suns, or Philadelphia 76ers
Conclusion:
I know I have Lawson lower than a lot of people do, but I have major concerns about how his game will translate in the NBA. First of all, he was in the ideal system and surrounded by exceptional talent for him to succeed. There is no doubt he is fast, but I worry about his creativity and shiftiness at the NBA level. I also don't think his shooting will be what it was this past year as the NBA three is a significantly different shot. When you are as short as he is you either have to be an elite athlete or an elite shooter.
Those are all the negatives, but the truth of the matter is that his stats, his team wins and his leadership are very hard to overlook. His foot speed is also tremendous and that is something that is very important in the NBA. The biggest key for Lawson will be the system he goes to. If he is given the keys to the car and allowed to go up and down then I think he could be a very effective point guard. If he gets stuck in a controlled system that values ball movement then I am not sure he will be nearly as effective.
I also would like to point out that this year's draft has about 10 point guards who could go anywhere from seven to 30. I like Lawson's game but I just have some of the other point guards a little bit higher (not much). The draft definitely lacks super star potential, but it does have a very deep point guard crop. I wouldn't be surprised if he ends up better than Teague, Jennings or Flynn -- who I all have in my top 10.