Hasheem Thabeet: 7-3, 265, Jr., C (University of Connecticut)
Draft Rank: #2
C Rank: #1
Strengths:
His size is what makes him an intriguing prospect. He has legitimate NBA size to play the five. He gets up and down the floor very well for a 7-footer and understands he belongs down low. He is already a good shot blocker and understands the timing necessary to block shots. Because of his size he can actually wait until his opponents leave their feet and commit to shooting the ball, at which point he uses his length to alter shots. This also keeps him out of foul trouble and has opponents worrying about shots inside the lane because of his presence.

His touch around the basket also allows him to use his size to score at will. Has good hands for a guy his size. Has a bit of a mean streak. Appears to be comfortable in his big shoes. Has good bounce that makes it very hard to block his shots. Has become a very good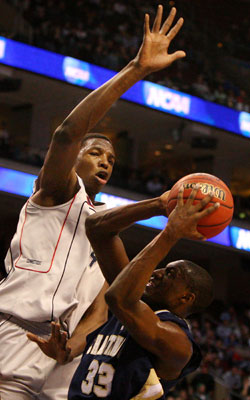 passer out of the post, creating ball movement and allowing an offense to work the ball from the inside-out. Can affect the outcome of a game without scoring.

Weaknesses:
He's still relatively soft on man to man defense. His offensive production has been nowhere near what you would hope for a guy his size. When he plays against guys of similar size he really struggles and becomes much less effective. His feet do not look like they are quick enough for him to be a dominant offensive-post player with his back to the basket.
Mental:
He shows spurts of emotion and toughness that you like out of a guy his size. With that being said, he often becomes timid when he is playing against players who are physical. He is a team guy, which I think is important. He encourages his teammates and embraces the help-mentality that a team wants from a shot blocker. The key question mark for him is whether or not he will embrace the physicality that the NBA big men bring to the table and to make sure he isn't hesitant to mix it up with them.
Extra Info:
-- Began playing basketball when he was 15 years old.
Comparison : Dikembe Mutombo, 7-2, 260, C


Would be a good fit for: Washington Wizards, Oklahoma City Thunder, or Toronto Raptors


Conclusion:
Thabeet has improved his game every year he has been at college. The big question mark is whether he will ever be a good enough offensive player at the next level. Everyone who I talk to says he will never average more than 12 ppg, and because of that, they aren't very high on him. When I tel l people I think he's very similar to Mutombo, many people call me crazy. But, if you look at Mutombo's stats in college they are similar to Thabeet's.
There is no doubt in my mind that Mutumbo is a Hall of Famer despite the fact his career average is only 9.8 ppg. The reason he's a Hall of Famer is due to his incredible shot blocking and his terrific rebounding ability. His rookie year was his best point production when he averaged 16.6 ppg, but that was an anomaly as they ran the offense through him (averaging over 12 shots a game) and they were a 24-win team that year. After his rookie year he averaged mostly seven to nine and half shots per game and was normally right around 12 to 13 ppg in his prime.
So with all of that information I would like to think Thabeet should be able to put up stats similar to Dikembe's. Like Dikembe, a team isn't drafting him for his offensive abilities, but rather in the hopes he dominates the defensive paint and has opponents worried that every time they go into the paint their shot may get blocked. At the very least he will be able to provide rebounding and a shot-blocking presence to a team. The best-case scenario would be that he becomes an all-NBA defensive force and that he improves his offensive skills to dominate his opponents on that end as well. Unlike many other players in the draft his ceiling is extremely high, but he has a ways to go offensively to be dominant on both ends of the floor. But for now I like what he brings to a team and a lot of the skills that a team looks for in a true center.