Sam Young: 6-6, 210, SF, Sr. (University of Pittsburgh)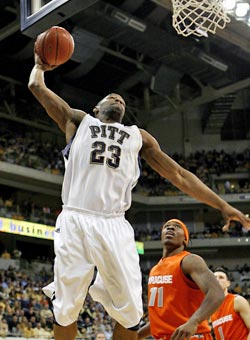 Draft Rank: #15
SF Rank: #2
Strengths:
Very strong for a wing player. Can really attack the rim using his strength and athleticism. Runs the floor very well. Can finish above the rim in highlight-reel fashion. Tremendous athlete. Uses the shot fake as well as anyone in college basketball. Is a triple threat on the offensive end. Uses the jab step and shot fake to then attack the rim with great ability.
Has good size for a wing player. While the form is ugly, he gets tremendous elevation on his jump shot. Very good from the corner shooting the ball, which is an important shot for a small forward to hit. Very tough to guard because of his combination of size, quickness and shooting ability. Runs the floor like a deer and finishes with strength and violence above the rim. Can do so many positive things on the floor without scoring. His versatility will allow him to cover the 2, 3 and 4 on defense. Good lateral quickness that will allow him to defend against wings. Has a great fadeaway jumpshot on the baseline where he elevates to a level that makes him very hard to stop. Can finish with either hand when attacking the rim. Has drastically improved his game in his four years in college.

Weaknesses:
Has a very awkward release on his shot. Shoots the ball with minimal arc, which in turn gives him less of a chance of extending his range. Doesn't always play within the flow of the offense and often forces shots. His ball handling could use some improvement. Doesn't have a crossover or an array of moves to shake his defender one-on-one. His age. His natural position would probably be at the 4, but he doesn't have the height to play that position. Does not do a good job of getting his teammates involved or creating for them.
Mental:
Like Terrence Williams, Young almost always rises to the occasion in big games. He plays his best when he is running up and down the floor, and really feeds off the energy of the crowd. Mentally he can lose it sometimes when he is shooting the ball from the perimeter. He is at his best when he is around the rim. When he gets a monster dunk or two, it's evident in his body language, which exudes extreme confidence. He has a worker's mentality and a very strong motor. His growth in college is a testament to his work ethic and his d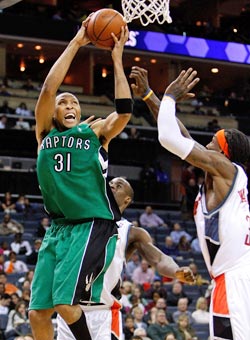 esire to improve. There are numerous stories about how he literally would live at the gym so that he could workout early in the morning.
Extra Info:
-- Poet and a gymnast
-- Is 24 years old
-- When Young was 3 years old his father was arrested for dealing cocaine
-- Earned Big East Most Improved Player of the Year accolades his junior season

Comparison: Shawn Marion, 6-7, 220lbs, SF
Would be a good fit for: New Jersey Nets, Minnesota Timberwolves, and Sacramento Kings
Conclusion:
I find it hard to believe he won't be able to start for an NBA team. Year after year he improved against the best that college basketball has. The weakest part of his game is his shooting, which I think will improve with practice. His athleticism and strength are tremendous and tailor- made for the NBA game. He won't be a star at the next level, but he will be a reliable player who can fit in with good players around him.
Young reminds me of Shawn Marion in that he is an elite athlete who can succeed in the right system and with the right players around him. His ability to work hard and contribute will be a huge asset for whichever NBA team gets him. He definitely has to work on his perimeter skill-set since he doesn't have the size to play the 4 in the NBA, but his past improvement leads me to believe he will improve on those flaws.
The guy loves to play basketball and I truly believe he will do whatever it takes to continue to play basketball. His work ethic combined with his freakish athleticism will allow him to be a contributor for a team as soon as next year.