Eric Maynor , 6-2, 175, PG., Sr. (Virginia Commonwealth)

Draft rank: #11

PG rank: #5

Strengths:
Does a really good job of attacking the paint. Once he gets you on his hip, he has a beautiful floater that he uses to get his shot off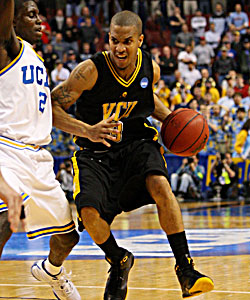 against bigger defenders and he hits it with unbelievable consistency. Has solid range on his shot from the college three-point line. Is calm and collected, whether he has the ball in his hands or he's away from the basket. He is involved in the offense by shooting and passing the basketball. Can take over a game with his scoring ability. Great size for a point guard. Plays in his opponent's face and really is stout on defense. Gets a ton of steals. His passes are crisp and sharp. He has great bounce to his game that makes him very hard to defend. Great first step. Has a step-back jump shot that he can use after he jabs his defender to create space. Creates for others and for himself. Really understands how to pass the ball and get his teammates in a position to shoot. Has been a standout for three consecutive years. Has a great wing span that allows him to deflect and get a lot of balls on defense. Really sees the floor well. Has great knowledge of how to set tempo and when to attack and when to slow it down. Really rises to the occasion in pressure situations. Is an effective jump passer and has the hang time to make decisions once he commits in the air. Very shifty when attacking the rim. Knows how to use his feet and use misdirection to get his defender off balance. Changes speeds with great fluidity. Does a great job of getting to the free throw line. Is a true point guard.
Weaknesses:
Is right-hand dominated. Brings the ball across his body when shooting, which sometimes causes him to take longer than needed to get his shot off. He sometimes forces his own shot. Doesn't have the blazing quickness that the elite point guards have. Turns the ball over more than you would like. There are definitely some concerns that he won't have NBA three-point range due to the mechanics of his jump shot. Needs to improve his consistency from long range. Sometimes gambles too much on the defensive end, which hurts his teammates. Doesn't have elite athleticism.
Mental:
Maynor lives for the big games against the top opponents. He has constantly stepped up and taken over games when his team has needed him to do so. He plays with a confidence and swagger that you look for in a point guard. He has lead his team to successful winning seasons and has shown that he can raise his teammates' play. He has all the attributes that you look for in a lead guard. His improvement in production year after year is a testimony to his work ethic. He also plays with a chip on his shoulder that gives him toughness and a no-quit attitude. I love his unselfishness and willingness to get his teammates involved until he needs to take over the game.

Extra info:
-Despite being from North Carolina, he was overlooked by all of the ACC schools coming out of high school.
-Two time CAA player of the year.
-A CAA player has not been drafted in the first round since 1999 (Cal Bowdler).


Comparison: Sam Cassell, 6-3, 185, PG

Would be a good fit for: Phoenix Suns, Atlanta Hawks, or Utah Jazz

Conclusion:
People will question whether or not he can compete at the NBA level after playing at a mid-major school, but I think that's way off. Plenty of great point guards have had success in the NBA after coming from a smaller school. John Stockton, Andre Miller, Steve Nash, and recently Rodney Stuckey have all made pretty good transitions from mid-majors to the pros. While I am not sure Maynor will come in and run a team right away, I do think that he will eventually be a very solid starting point guard. I think his toughness and work ethic will really drive him to become a better shooter and that is my main concern with him. I also think he does have that "it" factor that you hope a point guard has. The comparison to Cassell is one that I really believe is solid. Like Sam, he doesn't have tremendous athleticism, but I think that is really far down on what you look for in good point guards. He is an extremely intelligent player that understands how to play the game and how to make his teammates better. That is what you look for in a point guard. I look for him to be a solid backup point guard that will eventually take over the reins and be a leader on a good basketball team.